This article is more than 5 years old.
On May 14, 2014 a large (possibly unprecedentedly so) contingent of ZSR Resource Services folk traveled to the annual NCICU Library Purchasing Committee Meeting in Buies Creek, NC, hosted by Campbell University. Chris, Derrik, Lauren, Linda, Monesha, and myself made the two-hour drive in the library van for a day of vendor presentations and panel discussions.
First, Grant Powell from Kanopy showed a short video highlighting some of the lesser-known offerings in his company's streaming collection. I now have reasonably convincing proof that the company actually exists: it was nice to have Grant put a human face on a company we've been talking to at length in recent months via web demo, email, and phone. There was clear interest around the room in the company's streaming collection, their pricing models, and the mechanics of their PDA program. Lindsey Schell from EBL then talked about her company's demand-driven ebook options as well as their purchase by ProQuest and merger with ebrary.
After lunch the afternoon kicked off with an NC LIVE update from Tim Rogers, including information on their cool "Home Grown eBooks" pilot project. NC LIVE plans to offer ebook versions of around 1,000 titles from several small- to medium-sized North Carolina publishers, mainly targeting books on NC-specific subjects. Tim is clearly excited about the possibilities; several publishers have signed on, and the ebooks will be available to all NC LIVE libraries (with funding of the project split amongst them). If the pilot is a success, Tim hopes that the project might eventually be expanded.
Next came two panel discussions. The first, on the subject of ebook DDA, featured ZSR's own Derrik Hiatt. Flanked on his right by counterparts from Campbell and High Point universities, Derrik talked about some of the thinking that went into ZSR's decision to adopt a DDA program; what criteria we used to create our profile; how we handle triggered purchases; and, more generally, what has worked and what hasn't. All panelists agreed that these programs have been great boons to their libraries. Derrik named the opportunity to add a wealth of subject matter we might not normally select as one of the main benefits. He described how ZSR's DDA expenditures rose sharply in year two then began to plateau in year three. To illustrate this trend visually he produced a handy graph, magician-like, from a manila folder, throwing down a gauntlet which it would have been nearly impossible for the other panelists to pick up at this point in the day. I hope that if we venture into streaming video DDA (or "PDA" as Kanopy calls it) we find the same kind of success as we've had with ebooks.
The second panel discussion of the day covered the topic of streaming video and libraries' developing use of it. Davidson College's library started out by primarily selecting streaming videos whose corresponding DVDs were used by instructors for class. The three panelists agreed that discovery is key: does the vendor provide good MARC records? Is their platform readily navigable? Campbell promotes streaming video at faculty orientation in order to encourage awareness and use; library liaisons promote it as well. I came to appreciate the fact that owing to our great tech team we at ZSR have the ability to stream our own videos where Wake owns the content; some libraries would like to do the same but lack the necessary support to do so.
Afterward, irresistibly drawn to the giant bronze statue of Gaylord the fighting camel, we stopped for a group photo before leaving Campbell's rather lovely campus (possibly-doctored photo provided by Monesha):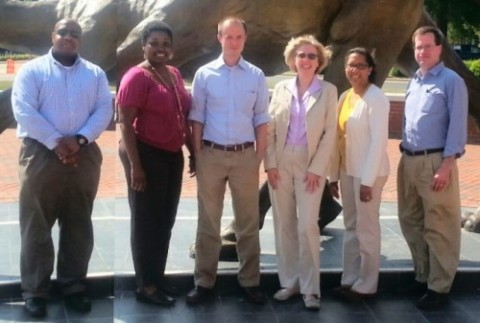 And, finally, the fighting camel: