http://saa.archivists.org/store/archives-records-ensuring-access-conference-recordings-on-mp3/3945/?
SAA Council met early in the week and approved a Code of Conduct, Best Practices for Volunteers and an issue brief on HIPAA (Health Information and Portability Act), among other items:
http://www2.archivists.org/news/2014/council-adopts-best-practices-for-volunteers-in-archives-revised-terms-of-participation-fo?
I also serve as the liaison for the Committee on Advocacy and Public Policy and the Diversity Committee. Both are very busy groups, and some of their upcoming projects include issue briefs on funding for the National Archives and Records Administration (NARA) and other advocacy issues, and the creation of an SAA Diversity Toolkit (based on the one developed by RBMS (ALA). I attended a session on Kickstarter as well as an interesting forum on Diversifying the Archival Record which featured authors from the recently published SAA Diversity Reader. I have a copy of this new book, if anyone is interested in taking a look. Finally, I was able to hear several interesting presentations from the Native American Archives and Latin America and Caribbean Cultural Heritage Archives Roundtables.
I was very excited to attend our reception, held at the Library of Congress. They have an entire stack area dedicated to their card catalog, it was amazing!
I also was able to get out one evening for a tour of some of the memorials, including the Lincoln Memorial.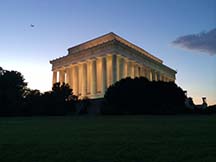 It was unseasonably cool in DC for this time of year, for which I was very thankful. I ended my week with the Archives Leadership Institute dinner (Saturday) and morning workshop (Sunday)—as always, this group immediately energized me, and some new ideas and connections have already come out of it.
After a successful trip, I was very happy to arrive home late Sunday night and again, would like to say how much I appreciate those direct flights out of the Piedmont Triad Airport!