Last week I attended the Spring meeting of the University Libraries Group, a consortium of twenty or so medium-sized academic libraries with strong undergraduate teaching as well as graduate and professional programs, whose directors get together to compare notes and talk about best practices.This year, the meeting was held at the University of Denver where the Dean of Libraries, Nancy Allen, is a good friend of mine from the 80's at Wayne State when she was Associate Dean and I was Director of the Science and Engineering Library. She has a beautiful new library, the Anderson Academic Commons, and much of the first day was spent touring the facilities. Nancy told us how she had been trying to convince the university to invest in a complete renovation of the library for nearly ten years but it wasn't until pipes burst all over with asbestos in them that they took her seriously and started the plans. The new library opened a year ago and is very inviting. It gave me many good ideas on furniture, services, and collaboration with university partners. Below is a picture of the most stunning library classroom I have ever seen. You can't see it from this angle, but it hangs out over the main library space like a loft.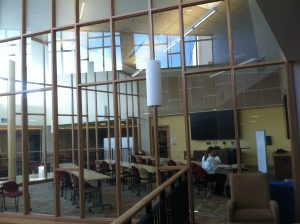 They operated the library for two years in temporary quarters and then only brought back about 40% of the collection. Collection development guru Michael Levine-Clark talked about how they decided what to bring back for the onsite collection. If I get access to the PowerPoint, I will share it with the MUVZ group, as it is the inverse of the process we are going through in trying to decide what to send to storage.
The rest of the meeting (two half-days) was spent in talking about various issues in a round-robin style, including topics like space planning, assessment, shared storage, library as publisher, and many other subjects. The detailed notes should be ready soon and I will share them on lib-l. The next meeting will be held at Loyola University-Chicago the day before ALA Midwinter in January 2015.