This article is more than 5 years old.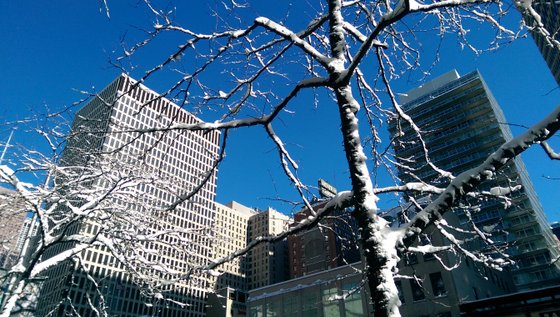 It was good to visit my home state of Illinois for ALA Midwinter 2015 in Chicago. I was able to get together with a few cousins with whom I was close growing up in Decatur, three hours south. And who doesn't like 18 inches of snow? Somehow the weather didn't actually interfere too much with the conference. If anything it brought attendees closer, I daresay.
At the meeting of the ALCTS Copy Cataloging Interest Group, Angela Kinney from the Library of Congress talked about restructuring at LC, specifically reductions in acquisitions and cataloging staff; this is a theme at many libraries, unfortunately. Roman Panchyshyn from Kent State (whom I've also seen present on an RDA-enrichment project similar to the one we've just undergone with Backstage) then talked about the considerable proliferation of e-resource bulk record loads in recent years and the need to build copy catalogers' skills in this area (at their library this work has traditionally been done by professional catalogers and systems staff). Necessary skills include PC file management, FTP/data exchange, basic knowledge of RDA, comfortability with secondary applications such as MarcEdit, and the ability to follow instructions and documentation. Here at ZSR, our copy catalogers, I must say, have these skills in spades, and I do not take for granted the fact that they are so sophisticated; nor should any of us. Not only are they able to follow workflows and documentation, but they create their own. Every record load is a little bit different, and these operations require attentiveness, diligence, and accuracy.
I also attended a session by the ALCTS MARC Formats Transitions Interest Group. The central topic was BIBFRAME, the new encoding format being developed by LC in collaboration with several libraries that eventually is meant to replace MARC as a more linked data/web-friendly format. Nancy Fallgren from the National Library of Medicine talked about the need for BIBFRAME (I think I'm going to get sick of typing that word before the end of this paragraph) to be flexible enough to work with the different descriptive languages of various sectors of the cultural heritage community – libraries, archives, museums, etc. She emphasized that BIBFRAME is not a descriptive vocabulary in and of itself and is built to accommodate RDA, not compete with it; it is a communication method, not the communication itself. Perhaps most importantly, this new format has to be extensible beyond library catalogs, as BIBFRAME-encoded data must go bravely off into the web to seek its fate, alone. Xiaoli Li from UC-Davis described her university's two-year pilot project, BIBFLOW (BIBframe + workFLOW), in which they are actively experimenting with technical services workflows using the new format. She concluded that "Linked data means an evolutionary leap for libraries, not a simple migration." This seems fair to say.
In July 2014 I started on two committees, and Midwinter was my first official meeting with both. On the ALCTS Acquisitions Section Organization and Management Committee, or, less conveniently, ALCTSASOAMC, we are planning a preconference for Annual in San Francisco entitled "Streaming Media, Gaming, and More: Emerging Issues in Acquisitions Management and Licensing." The gaming component of this, in particular, is interesting to me, because I know absolutely nothing about it. I have high hopes for the program, which will be comprised of librarian presentations, a vendor panel, and guided group discussions. I am also on the ALCTS Planning Committee, which has been working on a fairly exhaustive inventory of all ALCTS committees' and interest groups' activities with an eye to how they support ALA's initiatives of Advocacy, Information Policy, and Professional and Leadership Development. It's been an interesting exercise; one gets a broad sense of the many and diverse efforts being made to support librarians and to advance the profession. In the end we will draft a new three-year strategic plan.
What exactly someone who decided to drive back to Winston-Salem from Chicago can really contribute to strategic planning is a question for another day. I'll close with the dreary view from inside the hotel room I shared with Steve Kelley, who at the time seemed to be dying. Fortunately blue skies (see above) emerged.