Scott LeBlanc, Education and Program Director, NODA
Andy Cinoman, Director New Student Programs, Florida Gulf Coast University
I was unaware of NODA prior to this session. NODA is the "Association for Orientation, Transition, and Retention in Higher Education." They have resources for schools to evaluate their orientation programs. We also discussed the recently published the CAS Guiding Principles for Orientation. It is always good to hear about best practices and to learn other schools share similar issues when conducting orientation for new students. The take away here was that there is not just one correct way to do orientation.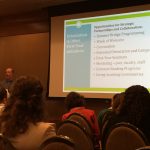 Enhancing an Established Common Reading Program
Tiffany Shoop, Associate Director for Special Programs, Virginia Tech
Megan O'Neill, Associate Director for First-Year Experiences, Virginia Tech
Common Reading Programs and Peer Mentoring Programs were two common themes at this conference. Virginia Tech has an excellent common reading program that gave me some ideas for our program at WFU. One key point here, students want to read books about an individual's journey, not books that tell them what they should do. (We learned that lesson here last year with P.M. Forni's "Choosing Civility." It was not well-received!) There also needs to be more transparency in the selection process, something we are already doing here at WFU, taking suggestions from faculty, staff, and students for this summer's common reading program. I attended several sessions on common reading programs, but this one was by far the most informative and relevant to WFU.
The Conference Awards Luncheon
Each of the eight winners present to receive the "Outstanding First-Year Student Advocate Award" gave a 2-3 minute talk on someone who was an advocate for them when they were a student. This prompt for the winners, provided by FYE, made this a much more meaningful event. The most touching stories came from two recipients in particular who described how they were first generation college students who came from households where English was the second language. They didn't find an advocate during their first-year, so they focused their careers to become the advocate they didn't have. It was worth waiting in line to get a seat!
Supporting a Diverse Student Population: The First-Year Residential Experience
Lauren Ramsay, Faculty Director Leeds Residential Academic Program, University of Colorado, Boulder
Mazhar Ali, First-Year Student, University of Colorado, Boulder
Boulder has an interesting program where students can join a residential academic program (think living-learn communities) that focuses on a particular discipline (in this case, business) The best part of this session was breaking up into small groups and discussing issues of reaching underserved populations from the application process to graduation.
Librarians at FYE
On Sunday night, I tweeted out to the Librarians at FYE and we met for drinks and discussion in the lobby bar! It was great to find other librarians at the conference and to exchange our ideas for engaging first-year students. (Twitter is such a great conference tool!)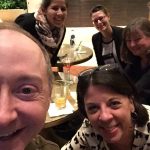 Connecting the Common Read with Information Literacy and Student Success
Lisa Kerr, Interim Associate Provost, Enrollment Management, Auburn University at Montegomery
Lisa Farrow, Director Center for Excellence in Learning and Teaching, AUM
Bloom's Taxonomy and Harvey Daniel's Literature Circles were featured in this session. I learned some great tools to help student unpack a reading assignment individually and in groups. Like all the sessions I attended, we had to participate and try out the tools in a small group! This was so much better than a traditional conference presentation, but it also made it hard for me to check email and work on my blog post! (ohh, maybe that was the point!)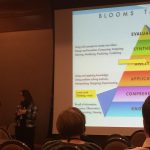 Crucial Conversations: Empowering Peer Educators to Facilitate Dialogue
Lauren Bosselait, Assistant Director First Year Experience and Learning Communities
Susie Mahoney, Assistant Director, Leadership Initiatives, University of Cincinnati
This session was packed! As I mentioned earlier, Peer Mentoring was a major theme at this conference. As an academic adviser, I appreciated the scenarios we examined in this session. Scenarios are a great way to practice these difficult discussions around social justice issues. It reminded me of the moderator training WFU has for the deliberative dialogues!
Meaningful Academic Collaborations Through Information Literacy for First-Year Students
Leah Tobin, Assistant Director of Student Engagement, Gemstone Program
Rachel Gammons, Teaching and Learning Librarian, University of Maryland
The Gemstone program does an amazing job of connecting the common reading program to information literacy, but we reach a larger percentage of our students for a longer time with our numerous sections of LIB100. Between our LIB100/200 sections and our "one-shot" research instruction sessions to First-Year Seminars we reach a number of students that other schools envied! That was nice to hear. Still, this session had me thinking how we could reach even more students. Leah and Rachel are rock star presenters! Rachel has a great description of why "libraries are weird" If you want a toothbrush on Amazon, you search "toothbrush" and click "Buy." If it were set up like a library database, you would need to call the toothbrush a "dental hygiene device" in your search, and you would be taken to a site the a description but not the actual item. Also, there would be an embargo for one year or you would need to borrow the toothbrush from another place. The room cracked up at this. (We all asked for blanket permission to steal her description and use it ourselves!)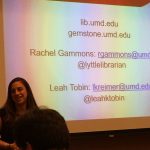 I appreciated this opportunity to branch out from traditional library conferences. There was much content that I'll be able to leverage as an Outreach and Instruction Librarian! I hope I'll be able to attend FYE again in a few years!