This article is more than 5 years old.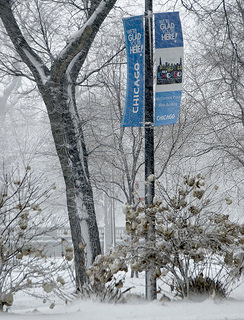 Chicago has always been one of my favorite conference destinations, but this was my first wintertime visit to the Windy City. My introduction to Chicago in the winter turned out to be an epic one. Declared one of the top 5 Chicago storms since records have been kept, Linus provided all of us with a primer on how the midwest handles a weather emergency. And it was fairly impressive! The whole city kept on going even as snow was blowing sideways and piling up to 19″. The conference shuttle buses ran throughout, sessions were held as planned and spirits were upbeat (although I think southerners developed a few worry lines along the way). If I would fault one thing it would be the absence of any communication from ALA proper to the conference attendees. It was word of mouth as to whether to expect the buses to continue, and whether sessions would or wouldn't be held. I know they are a big organization, but they manage to give our emails out to every vendor so we receive a barrage of communication hawking products. Would it have been too hard to use those email lists to let conference-goers know what to expect in a major storm? Enough about the weather, although it did offer good competition to the Super Bowl as a major non-library topic for conference attendees…..
Friday afternoon, I joined in at an ARL assessment coordinators meeting. Wanda, Lauren Corbett and Mary Beth all attended at least part of this afternoon-long program. Wanda and Lauren were interested in hearing about the new IPEDS data collection, which has caused confusion to most. I went because I was interested in the session on learning space data and assessment. ARL has added a facilities inventory to its survey list and there was discussion about the parameters for doing it correctly. I got the most out of the presentation by Joan Lippincott (CNI) who showed some tools that can be helpful in assessment of learning spaces. FlexSpace is an open access repository populated with examples of learning spaces.It contains high resolution images and related information that describes detailed attributes learning spaces from from 336 institutions with data in the system. I applied for a free account and look forward to exploring further. The Educause Space Rating System provides a set of measurable criteria to assess how well the design of classrooms support and enable active learning activities. It works best with formal learning spaces but there is interest in developing profiles for informal spaces that might be more aligned with the types of spaces a library offers. The Learning Space Toolkit is meant to help design and sustain technology-rich informal learning spaces. Our colleagues at NCSU Libraries are involved in this project. The session was worthwhile just for introducing me to these potential tools, although I did feel like a bit of an interloper sitting in with the Big Dog ARL Assessment groups!
Most of my weekend was focused on LITA activities. I've been asked to run for LITA Board Director (again) and so my time was spent going to a Joint Chairs meeting, Top Tech Trends and working with LITA leadership (Thomas was at this table) to learn my charge as next year's Chair of the Financial Advisory Committee. Along the way I did some networking with LITA members who I want to get to know better and caught up with some old colleagues as well. Even though the weather put a damper on my after-hours networking (Sorry to have missed the LITA Happy Hour, but the blizzard was in full force by then), I was glad for some day-time chances to strengthen relationships with LITA folks.
The ZSR group that had booked the direct afternoon United flight to Greensboro on Monday may have been the luckiest librarians in the whole conference. We all managed to get to the airport, fly out only an hour late, and get home in time for dinner! It was a good ALA adventure this weekend, but I think we all were happy to touch down in non-snowy North Carolina!