Shortly following my arrival to ZSR this past December, one of the goals discussed between Chelcie Rowell and I were to visit digital production labs at nearby universities over the summer. The goal was to witness how other well known institutions operated their digital production labs. This came to fruition on July 21 as we made the trek to UNC Chapel Hill and Duke University.
Specifically we wanted to observe and ask questions about how other operations managed workflows, performed quality assurance (QA/QC), color management and digital preservation.
Chelcie made the initial contacts this past May with Molly Bragg, the digital collections program manager at Duke's Digital Production Center, and Lisa Gregory, the program coordinator at the North Carolina Digital Heritage Center. The Digital Heritage Center is located on the campus of UNC Chapel Hill at Wilson Library.
The itinerary consisted of first traveling to Chapel Hill that morning, and Duke University in the afternoon. In between the two visits, we had lunch with both parties.
Lisa and Kristen Merryman were our Chapel Hill hosts that morning. Kristen is the digital projects librarian at the Digital Heritage Center. The organization is independent of UNC Chapel Hill, but the two groups share the Digital Production Center in Wilson Library. So this gave us the opportunity to also meet some UNC staff–specifically Kerry Bannen, a digitization support technician for the library's preservation department, and Fred Stipe, who heads the Digital Production Center.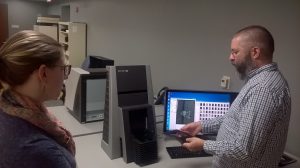 Both Kerry and Fred were in the midst of digitizing materials when we were escorted to the lab. The two were using Zeutschel overhead scanners similar to the Zeutschel workstations within ZSR. Kerry proved to be very knowledgeable about Omniscan, which is the designated software used to operate Zeutschel scanners. A drawback with Omniscan is that there is scant literature or other resources on how to use the software outside of its basic functions. So it was great to meet people who have extended knowledge.
In particular, Kerry shared awesome tips and ideas on the value of using additional clips in Omniscan, which we have now implemented. Clips represent an individual scan in Omniscan. In typical scanning sessions, we used two clips. Kerry provided some insight on how to add additional clips for different functions. For example, we applied a clip that will now generate a thumbnail image within a session.
This proves useful because we create thumbnail images for use in Wake Space to represent a digital object. A 300-plus biographical files upload will also need that many thumbnail images. Prior to our visit, we automated this process with an Adobe Photoshop script. But incorporating this step within Omniscan streamlines this process even further.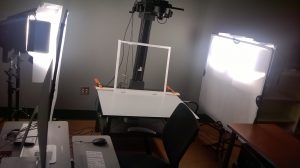 Color management was also a key topic of discussion at both Chapel Hill and Duke. Having appropriate color calibration on a PC ensures colors and black levels on the screen are true for best results when editing and viewing images. At Duke, Mike Adamo demonstrated the color calibration and profiling system performed on their PC monitors. Mike is the digital production developer at Duke's Digital Production Center, located at Perkins Library.
Molly also introduced us to the other staff at Duke's lab: Alex Marsh, digitization specialist; Zeke Graves, audio digitization specialist; and Will Sexton, head of digital projects and production services. In addition to still images and documents, the staff also works heavily with audio and video. Alex spends much time digitizing analog video such as VHS tapes. And Zeke specializes in digitizing audio, such as vinyl records, cassette tapes and reels.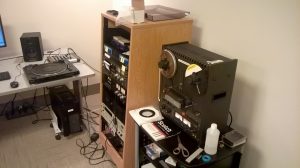 Both Alex and Zeke revealed to us that the equipment they use is hard to come by, mainly because electronics such as high end VCRs and cassette players are no longer manufactured. Coincidentally, that same week it was announced on many news outlets that the last company making VCRs would stop producing them in July. Alex said that some of the audio equipment used in the lab has been purchased on eBay.
Our meeting with Will closed out the the visit. In-part he presented a walkthrough of their digital collections. It was also a nice gesture that he invited us to attend upcoming Triangle Research Libraries Network (TRLN) meetings. One of the group's areas of interest is a Shared Digital Production, Access and Preservation platform.
What was pleasing about the two visits were how our hosts were so willing to accommodate and answer our questions, and even share their documentation. It was also great to make new connections and come back with new ideas.