This article is more than 5 years old.
THE INNOVATIVE LIBRARY CONFERENCE
On Thursday, May 12, Amanda, Kyle and I made the lovely two hour scenic drive to Radford University to attend The Innovative Library Conference (TILC). Registration for this 75 participant conference filled in 27 minutes, so we were fortunate to be a part of this well-done and informative event.
The keynote speaker was Donna Lanclos, Associate Professor for Anthropological Research at the J. Murrey Atkins Library at UNC-Charlotte. Donna's speech can be found here on her blog, but just pondering her job description was enough to make the speech interesting! She talked about Active Learning Classrooms and their implications for libraries and librarians. She focused on the importance of active learning and the idea that the community IS the curriculum. She encouraged librarians to serve as "consultants, partners, and leaders on campus with faculty" to encourage active learning across the curriculum. She was adamant that 25 years of research has proven active learning is more effective than traditional lecture. However, I cannot just summarize what she said without sharing some of my own skepticism to this approach. I am a huge Parker Palmer follower, and I believe that there are many approaches to teaching that can be highly valuable. While active learning is my approach to classroom learning, I cannot imagine ever suggesting to Ed Wilson that he should integrate active learning into his classroom.
My favorite session was led by Maryke Barber from Hollins University which was titled "Balance Through Mindfulness: The Art of Now in the Library Classroom." She led us in three contemplative practices that can be integrated into our instruction. She created an amazing LibGuide for her presentation that can be accessed here.
One interesting session was led by Patrick Rudd (librarian) and Paula Patch (Coordinator of the College Writing Program) at Elon University who reflected on their experience from librarians doing one shot, canned presentations, to becoming co-owners of the curriculum. They created is a wonderful "community of practice" model that impacted the entire Elon University first year writing program.
After lunch, Amanda and I participated in a Selfie Scavenger Hunt of Radford's McConnell Library. It was the perfect after lunch session. I had heard NC State present on this self-guided approach to library tours, but it was my first time experiencing it. They equipped us with a map, a list of items to find, and an iPod mini. You will be pleased to know that thanks to Amanda's technology skills, we (team "Deacons") won!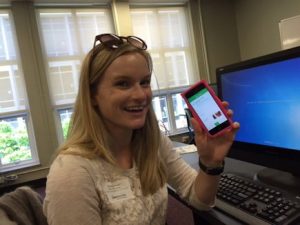 It was a good, but long day. Hats off to Radford University and the TILC Conference Committee for pulling off one of the best instruction conferences anywhere!
NC-BIG
On Friday, May 13, Kathy, Kyle and I attended NC-BIG Camp 2016! Kathy did a great job as the facilitator for the "ACRL Framework" discussion. I have still not watched the John Oliver video, but I plan to do that soon!
I also participated in the "Learning How to Teach" session which was a fun and interesting discussion facilitated by Amy Harris Houk. Our group had representatives from public libraries, community colleges, small colleges, and large universities. To me, it was the quintessential NC-BIG "unconference" breakout session because our entire discussion was fueled by one librarian's question which was, "How do you learn to teach?"
My big takeaway from NC-BIG was that you can convert PDFs to Google Docs using Google Drive. This one piece of information was worth attending the conference!