Building bridges and dismantling silos
If you're still reading, you're awesome! Here's a reward for you.
Lots of the work I do involves making connections to faculty as they kick around ideas related to digital pedagogies or information literacy. Sometimes that's just helping them find a tool or some content that will work for what they want to do in their classroom. Sometimes that's delivering a synchronous webinar after hours to teach online students about research. But sometimes these connections result in bringing together a team of people, including Molly Keener and legal counsel, to update the university's copyright policy, devise a system for fair use evaluations, and create a workaround for our lack of a streaming media service using the tools already at our disposal, Apollo 13-style. (More on that later, probably, but suffice it to say that Molly Keener is a steely-eyed missile (wo)man.)
What I'm getting at is that my work, and the work of many of us in ZSR, finds adjacencies to the work of various units on campus, such as the Teaching & Learning Center, Information Systems, and Online Education, to name a few. But far too often, I think, we tend to operate in our own little silos, unaware of how the work these other units are doing might overlap with our own.
So I was pretty thrilled to find there was a thread running through TILC and LOEX that spoke to dismantling those silos and building more meaningful and mutually beneficial relationships with (specifically) centers for teaching excellence. One session in particular highlighted how libraries and campus partners can both "buy" and "sell" resources, personnel, services, and spaces in our shared mission of supporting the teaching and learning missions of our institutions. The presenters–a librarian and a director for the CTE at Indiana University of Pennsylvania–discussed how they've shared each other's assets to their mutual benefit: co-marketing events, providing classroom spaces, and promoting services, collections, and expertise. For example, the library has used LibGuides to help the CTE organize handouts and workshop materials, and the CTE regularly sponsors faculty lunches in the library in which librarians facilitate workshops on information literacy or using library resources in their classes. A win for the library, a win for the CTE, and a win for the faculty.
Other cool things
I'd be remiss if I didn't congratulate Amanda on not one, but two stellar presentations during this whirlwind week. Our talk at LOEX about our LIB100 course redesign was well attended and lots of fun, and her lightning talk at TILC about using learner personas to design instruction was the best of all of them.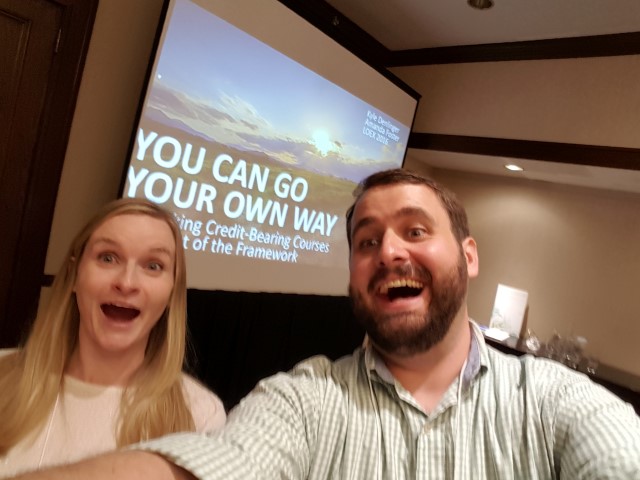 Finally, LOEX was a great opportunity to visit my in-laws in Pittsburgh and relax for a couple of days. Sam and I went on a hike; he checked the bridges for trolls.