This article is more than 5 years old.
If you've ever considered attending three conferences in three different states in the same week, you'd better be prepared to be inundated with new ideas, new contacts, and challenges to your practice. Here, I'll attempt to find the overarching themes from my experiences at LOEX in Pittsburgh, The Innovative Library Classroom conference (TILC) at Radford University in Virginia, and at NCBIG Camp at UNCG. See also: Joy at LOEX, Amanda at LOEX, Joy at TILC and NCBIG, and Kathy at NCBIG. They're much quicker at their writeups than I am.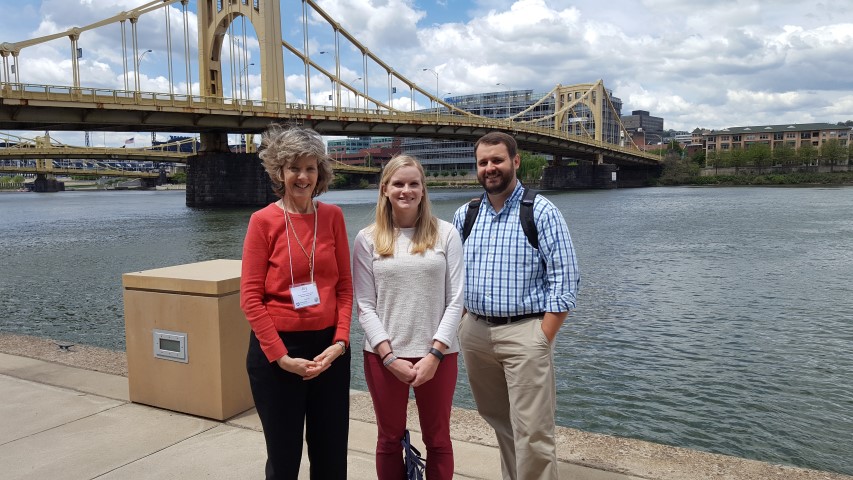 Challenging structures and practice
It's a really exciting time to be involved in library instruction. The ACRL Framework for Information Literacy has sparked countless conversations about IL and the role of librarians in the teaching and learning missions of their institutions. The most dominant conversation, I think, has been that surrounding critical pedagogy in libraries, which Amanda so thoroughly covered in her post. I'll save you the rehash of Amanda, but I will say that I'm really excited to see these conversations becoming more mainstream in the instruction world (although some might react to this with some indie rock skepticism). Some have suggested that information literacy can be considered a discipline in its own right; I think #critlib is definitely the strongest evidence of a move in that direction. Eamon Tewell's LOEX presentation "The Practice & Promise of Critical Information Literacy in Library Instruction" served as both a good introduction to the topic and as an interesting snapshot of current critical infolit practices and attitudes. One finding that rang true from my own experience is that integrating critical information literacy concepts has made my instruction much more engaging and meaningful, both for my students and for me as an instructor.
Other challenges had less to do with what we mean by information literacy and more to do with how we teach it. I found the LOEX presentations "Rhetorical Reinventions: Rethinking Research Processes and Information Practices to Deepen our Pedagogy" by Donna Witek, Mary Snyder Broussard, and Joel Burkholder, and "Mixing It Up: Teaching Information Literacy Concepts Through Different 'Ways of Learning'" by Lorna Dawes to be particularly interesting. The former investigated IL through the lens of rhetoric and composition theories, finding very relevant connections to the work of our colleagues in the writing program; the latter looked at how we might apply Davis and Arend's "Facilitating Seven Ways of Learning" to IL instruction, especially in light of the Framework.
Keeping awesome sustainable
One refrain of all three conferences was how we might create more sustainable instruction practices and avoid becoming victims of our own success. I think we face this challenge on two fronts at ZSR: our LIB series only continues to grow and evolve (looking forward to new additions to the RIS team soon!), and one-shot sessions, embedded librarian collaborations, and personal research sessions show no signs of letting up. We're pretty psyched when we get an invite to do a one-shot for a new professor who's willing to make it more of a collaboration than a babysitting session, but we all know that with more classes comes more student consultations.
Librarians at James Madison University shared how they use asynchronous online instruction as a scalable way to reach the 60 sections (1000+ students!) of the foundational course of their First Year Writing program, requiring just one librarian (!!!) for support, using online tutorials created with Guide on the Side and LibGuides. At the University of Virginia, they employ multiple techniques to make their one-shot instruction program more sustainable, such as focusing their efforts on specific courses, collaborating to ensure consistency across sessions, sharing resources so as not to reinvent the wheel, and setting limits on the number back-to-back sessions and the total number of one-shots taught each day. The instruction program at UVA is much more centralized: they have a standalone Teaching & Learning Team, separate from and equivalent to their two teams of subject specialists on their really interesting organizational structure. Finally, our friend Katy Webb at ECU delivered an amazing lightning talk at LOEX on how she implemented a sustainable method for reviewing and weeding their garden of LibGuides on an ongoing basis. Lots of info here in a ZIP file.
Maybe the best session I attended at any of the conferences was a session at LOEX called "Steal This Idea! Getting from Awesome to Action." (For slides, handouts, and suggested readings, visit bit.ly/loextoolkit.) Appropriately, this engaging session fell at the end of the conference, when everyone was saturated with awesome ideas. As we all know, actually remembering and enacting those ideas is the trick, because inevitably we all come back to flooded inboxes and quickly forget about or feel that we have no time to do the things we swore we'd do during the conference. A few things I brought home from this session:
Keep a list of your ideas in a system that works for you. I keep mine in

Trello

. It's now full of ideas from all of these conferences.

Separate "dreams" from more actionable "ideas." You might not be able to accomplish the Big Thing yet, but you might someday when you have new resources or insight.

Schedule regular meetings with yourself to review these lists and check your progress. These meetings should be free of self-judgment! Weed out ideas that no longer work, and don't feel bad about it.

Often enacting big ideas requires big (and complicated) change in an organization. Understanding what elements of a project you have, and what elements you need, is crucial to managing this kind of change. I think this slide is super amazing:
Building bridges and dismantling silos
If you're still reading, you're awesome! Here's a reward for you.
Lots of the work I do involves making connections to faculty as they kick around ideas related to digital pedagogies or information literacy. Sometimes that's just helping them find a tool or some content that will work for what they want to do in their classroom. Sometimes that's delivering a synchronous webinar after hours to teach online students about research. But sometimes these connections result in bringing together a team of people, including Molly Keener and legal counsel, to update the university's copyright policy, devise a system for fair use evaluations, and create a workaround for our lack of a streaming media service using the tools already at our disposal, Apollo 13-style. (More on that later, probably, but suffice it to say that Molly Keener is a steely-eyed missile (wo)man.)
What I'm getting at is that my work, and the work of many of us in ZSR, finds adjacencies to the work of various units on campus, such as the Teaching & Learning Center, Information Systems, and Online Education, to name a few. But far too often, I think, we tend to operate in our own little silos, unaware of how the work these other units are doing might overlap with our own.
So I was pretty thrilled to find there was a thread running through TILC and LOEX that spoke to dismantling those silos and building more meaningful and mutually beneficial relationships with (specifically) centers for teaching excellence. One session in particular highlighted how libraries and campus partners can both "buy" and "sell" resources, personnel, services, and spaces in our shared mission of supporting the teaching and learning missions of our institutions. The presenters–a librarian and a director for the CTE at Indiana University of Pennsylvania–discussed how they've shared each other's assets to their mutual benefit: co-marketing events, providing classroom spaces, and promoting services, collections, and expertise. For example, the library has used LibGuides to help the CTE organize handouts and workshop materials, and the CTE regularly sponsors faculty lunches in the library in which librarians facilitate workshops on information literacy or using library resources in their classes. A win for the library, a win for the CTE, and a win for the faculty.
Other cool things
I'd be remiss if I didn't congratulate Amanda on not one, but two stellar presentations during this whirlwind week. Our talk at LOEX about our LIB100 course redesign was well attended and lots of fun, and her lightning talk at TILC about using learner personas to design instruction was the best of all of them.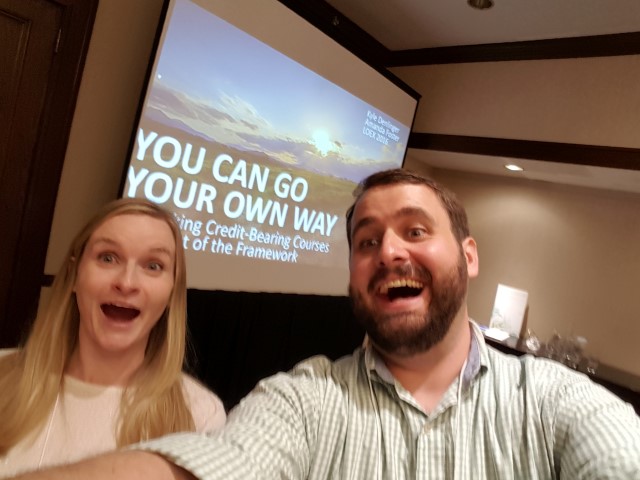 Finally, LOEX was a great opportunity to visit my in-laws in Pittsburgh and relax for a couple of days. Sam and I went on a hike; he checked the bridges for trolls.