This article is more than 5 years old.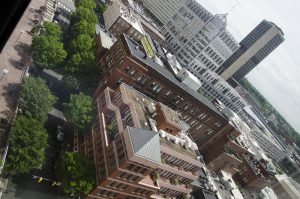 I'm enjoying getting opportunities to represent ZSR at meetings that I haven't yet attended. At the beginning of May, Tim asked me to stand in for him at the spring ASERL Membership meeting that took place in Richmond. The meeting spans two days and combines a business portion with programming. The meeting link shows the agenda and has links to speaker materials. Mark Puente, ARL Director of Diversity and Leadership Programs, presented about diversity, inclusion, equity and social justice strategies and missions in the modern academic library and outlined current ARL diversity and inclusion programs, the earliest of which began in 1990. Prior to the meeting, John Burger surveyed members about current diversity activities and the results were shared. Liz Brooks from the VCU Counsel office gave us a nicely distilled presentation about the GSU e-reserves lawsuit. We got updates about ASERL pilot projects (CHORUS and the "new metrics" project in which we are participating). Brian Nosek co-founder of the Center for Open Science, talked about the Open Science Framework. Here's some background on it.
A highlight of the meeting was a field trip to visit VCU's new Cabell Library which opened in January and is a major addition onto the original library. It added 1,500 new seats (the various levels have the decor color-coded to help define different spaces), an outdoor terrace, an expanded Special Collections and Archives, and a graduate student and faculty research center. My favorite is a screened porch-style student space (pictured below). If you want to see some pictures I took on the tour, I've saved them in Google Drive, enjoy! (restricted to WFU campus).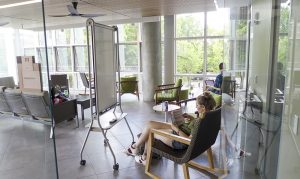 I was grateful for the opportunity to meet the deans and associate deans representing other ASERL institutions and came away with a better understanding of ASERL's purpose and programs.