The ZSR Library's Professional Development blog is now Inside ZSR. We've modified this blog to provide a space for posts that have a greater focus on internal news and stories, and enhance the design and organization of this existing channel. If you are a dedicated reader to this blog (or would like to become one), we invite you to update the RSS feed and/or bookmark. If you are a ZSR faculty or staff member, you will receive email notifications for stories published in Inside ZSR.
Organization & Suggested Content Areas
We've established 3 broad categories to organize content for Inside ZSR posts:
Professional Development: summaries of conference participation, involvement with communities of practice and knowledge, and other professional development opportunities.
Under the Cupola: library-centric posts and ZSR-specific announcements, including internal memos, team or committee reports, etc.
Other: Anything that extends beyond the other two categories.
Bloggers are encouraged to add further definition and classification to their posts with tags. Reoccurring and frequently-used tags are available to select from a tag cloud on the WordPress editor and contributors also have the option of adding new tags.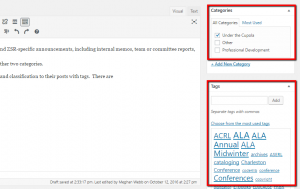 Additional information about our blogs and guidance for contributing bloggers can be found on our Blog Style Guide. Furthermore, the ZSR Communications Committee will be hosting a ZSR Bloggers' Workshop on Monday, Dec. 19th from 9:00-11:00 am. All active and interested ZSR bloggers are encouraged to attend. The workshop will offer a review of the ZSR Blog Style Guide, highlight recent modifications to ZSR blogs and recommended practices for blogging. Please sign up for this workshop from the PDC event.