This article is more than 5 years old.
Last week I traveled to Asheville for the Society of North Carolina Archivists Annual Conference held at UNC Asheville. I know you have all heard from Stephanie and Craig about their whirlwind day, so I will try to fill out the rest of the conference for you.
I started my conference with a pre-conference workshop dedicated to ArchivesSpace. Taught by Noah Huffman of Duke University, this one day workshop was coordinated through SAA and was an attempt to condense what is normally a two to three day workshop into one day. Needless to say, we covered a lot of information! I found this very helpful especially since we each got our own ArchivesSpace instance to follow along with and add information as Noah instructed us. The good news is that the user interface is very similar to what we currently use in Special Collections & Archives, Archivists' Toolkit. What wasn't covered was data migration and customization, which I know is on the minds of everyone here in SCA. As our team wraps our heads around a software to replace Archivists' Toolkit, I found this workshop quite helpful and encouraging when thinking about ArchivesSpace as a replacement.
What is Asheville without breweries?! Wednesday night, SNCA had a meetup at Catawba Brewing in South Slope, Asheville. It was a terrific turnout! Asheville was really a draw for archivists from all over NC (and Tennessee, South Carolina, even Nebraska) with the registration for the conference coming close to 130 people. There were at least 40 people at Catawba Brewing for the meetup, and I had a great time catching up with old pals and meeting a lot of new people.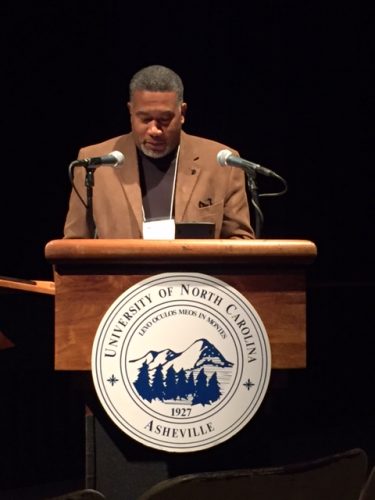 Thursday started bright and early with a plenary by Darin Waters. I spent time setting up tables, promoting raffle ticket sales (one of the baskets made by Craig Fansler!!), registering attendees, and attending panel presentations. I ended my afternoon by hosting the SNCA business meeting. As president of SNCA, I have worked with the Executive Committee to make constitution changes that will benefit the membership. I presented these changes for a future vote as well as announced the SNCA elections results as chair of the nominating committee. I am proud of the work I have done as SNCA president over the past two years, and look forward to retiring my role as president and continuing to be nominating committee chair for one more year.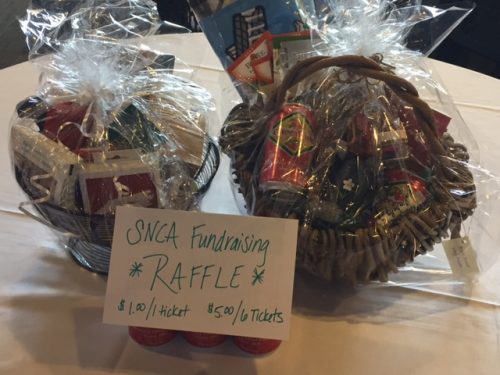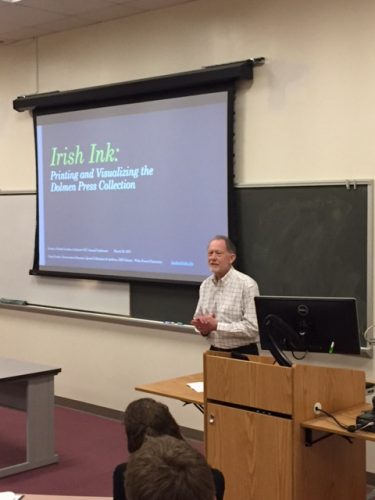 After a long day of conferencing and a delicious dinner with colleagues, we returned to UNCA for an awards reception and raffle. As the president of SNCA I was given the opportunity to introduce the awards and thank everyone for attending the conference. The raffle generated a lot of buzz and was our most successful conference fundraiser to date. The lucky winner of Craig's basket left with lots of goodies and a smile on her face.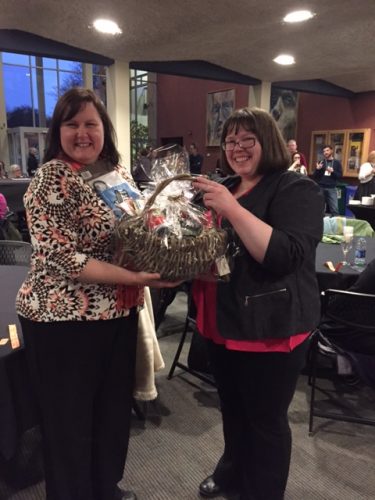 Friday morning opened with Dr. Meredith Evans, Director of the Jimmy Carter Library, as our plenary speaker. Titled "No Fear: Social Responsibility and Community Archiving," this was a wonderful, inspiring, and exciting presentation. Essentially, Dr. Evans charged us to get out there into the community and make a difference with archives. She implored us to care less about perfection and more about affecting change with our work. She told us to "diversify your staff to diversify your record: hire people that don't look like you, talk like you, think like you." I will not lessen how exciting her talk was by trying to paraphrase it here, but know this: I was pumped up afterwards!!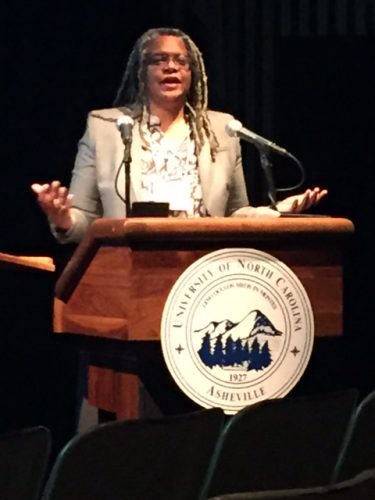 Following the plenary, I had the opportunity to moderate a panel called "Collaborating to Document the Community Response to the Fatal Police Shooting of Keith Lamont Scott (Charlotte, September 20, 2016)." Panel presenters included Dr. Tekla Ali Johnson, Co-Director Southern Preservation Center, Former Head African American Studies Program, Johnson C. Smith University, Brandon Lunsford, Archival Services Librarian, James B. Duke Memorial Library, Johnson C. Smith University, Dawn Schmitz, Associate Dean for Special Collections and University Archives, J. Murrey Atkins Library, UNC Charlotte, and  Katie Causier Howell, University Archivist, J. Murrey Atkins Library, UNC Charlotte. Needless to say this timely topic generated a good discussion from presenters and audience alike.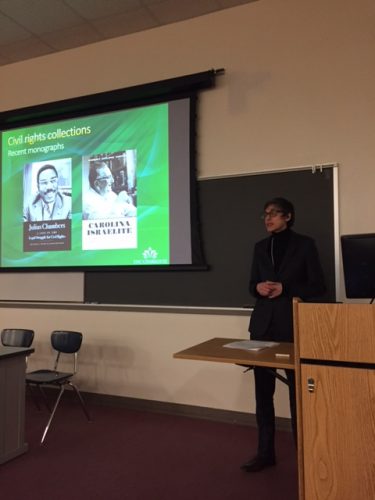 My final SNCA activity was a trip to the Biltmore House archives with 19 other SNCA archivists. Led by Jill Hawkins and Winnie Titchener (Biltmore House archivists) we were treated to a behind the scenes tour of the Biltmore House archives. Not open to the public, the Biltmore archives are not generally a destination when visiting the Biltmore House, which made this even more exciting! Situated in rooms two stories above the servants dining room (if you've been on the official tour, you have seen this), the Biltmore House archives is housed in a handful of rooms originally used for bachelor's quarters and later refitted for Edith and Cornilia Vanderbilt after George Vanderbilt's death. We entered through the back of the house that was originally (and still is all these years later) the servant's entrance.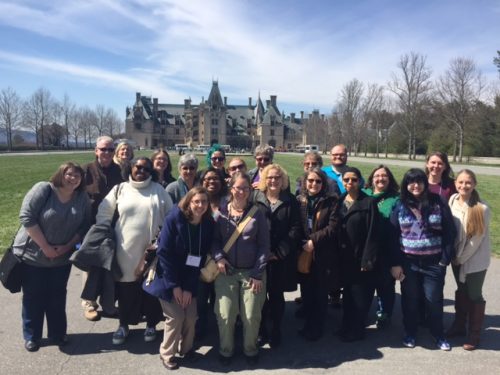 Quite frankly, once you get into the space there isn't much that makes it remarkable. Archival boxes, compact shelving, temperature control- typical archives stuff. But then you catch site of a button that says "butler's pantry" or "maid" and you remember that you are in a very special place.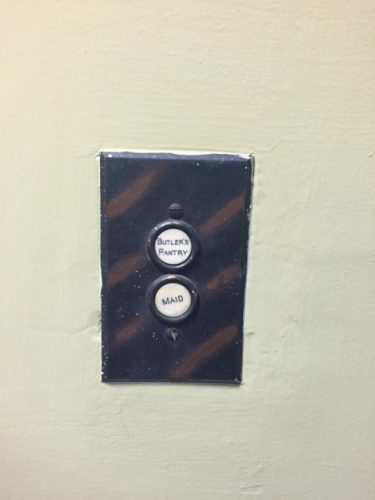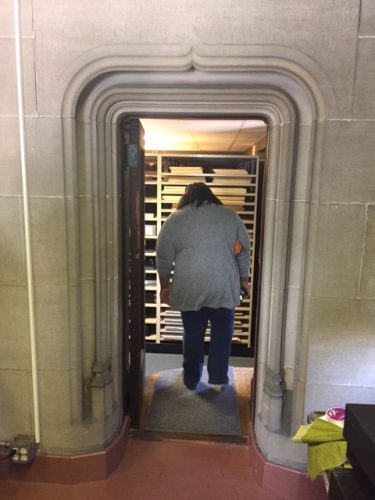 Long story short (too late!) the conference was a wonderful combination on committee work, panel presentations, networking, and fun. I am happy to talk more about the conference with anyone interested. Many thanks to the Dean's office for affording me the opportunity to travel to SNCA 2017.