View of the city from Buckingham Fountain in Grant Park
I always look forward to ALA being held in Chicago, it's one of my favorite cities to visit. The last ALA conference there was in the middle of a blizzard, so I looked forward to being able to enjoy and document the outdoor hustle and bustle of the city in June. This was my 5th ALA (annual or midwinter) in Chicago, not to mention all the visits I made to end user meetings back in the good old Endeavor days!
My primary purpose for attending these days is to perform my duties as Director-at-Large for LITA. I'm just completing my second year of my term, with one more year to go. This means (as I'm sure I've told you before) that most of my conference revolves around board meetings and other LITA  meetings, programs and events. The board meeting is split into two 3-hour sessions on Saturday and Monday afternoons. Most of the topics during the board meeting aren't fodder for public blogging, but I'd like to share one initiative that we discussed that is expected to have big impact on LITA membership and strategic focus. During the past year, a Personas Task Force was charged with  defining and developing personas for LITA. These personas were designed to represent the varied interests, needs, and expectations of the LITA membership both currently existing and potential. After months of research and hard work, the task force published their findings, 9 different personas in all. LITA committees and interest groups have been working this spring to identify the personas most relevant to their missions and thinking about how to shape their activities to leverage those. The board spent time at Annual discussing how to prioritize them and align them with our current strategic goals. It has been an interesting approach that should yield results.
This year has been LITA's 50th anniversary and so this conference's Happy Hour (a regular conference member engagement event) included a celebration. You'll see in the picture below that many of LITA's past-presidents attended to mark the occasion. I'm sure you'll notice our own Thomas Dowling in the group!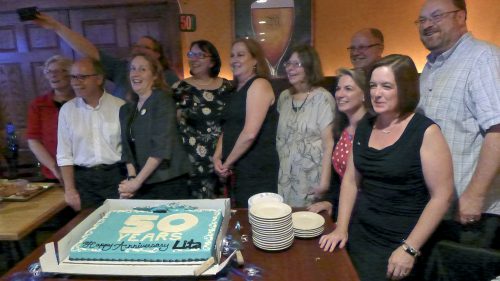 Although free cake is always welcome, it wasn't the only outcome of the anniversary year. Over the year, LITA raised over $11,000 for scholarships to help diversify LITA's leadership. With this funding, LITA will sponsor 6 LITA Forum scholarships and 2 ALA Emerging Leaders in the coming year.
If you are interested in seeing all that LITA accomplished in the past year, check out its annual report.
The conference packs a lot of activities over a 3-4 day period, what with meetings, educational sessions and networking. Networking can sometimes be the hardest part, at the end of a long day. However, it's worthwhile when you get a chance to catch up with former colleagues, like I did (with Steve Kelley and Kathy Shields). We managed to gather together with Lauren Pressley, Elizabeth Novicki, Elizabeth Leonard and Erik Mitchell and hear what everyone is up to these days!
I'll close out with a picture of an art installation I came across in McCormick Place that is comprised of 10,000 Chicago souvenirs, named "Made in China." (artist Patrick Miceli). That's the other thing I love about Chicago – their commitment to public art.