On Thursday, May 11th, I attended "The Innovative Library Classroom 2017" (also known as TILC). This was the fourth annual TILC conference, but it was my first time attending. I had heard great things about this small conference with registration capped at 100 participants this year, and after my experience this year, I'll be back! Radford University's McConnell Library founded and hosts the conference each year. This year the pre-conference social and poster session on Wednesday evening were held in the new building for the College of Humanities and Behavioral Sciences.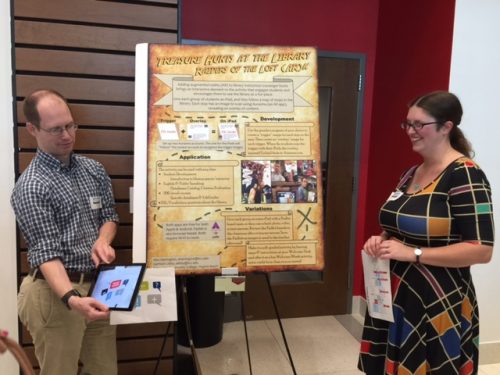 The conference began on Thursday at 8:30am with introductions by Candice Benjes-Small, and keynote speaker, Rebecca K. Miller. Miller's presentation, "Teaching, Learning, and Leading: Be a Professional Triple Threat, was a great way to start this day. Miller began with a the history of the conference, then discussing how this is a critical time for libraries, referencing the 2017 Horizon report trends, the ITHAKA report, and describing how Instruction Librarians can leverage their particular skills toward leadership roles. It was an informative and inspiring program.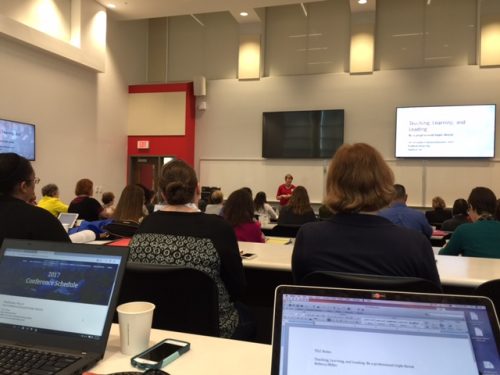 The rest of the morning and afternoon were filled with twelve sessions across four time slots and three tracks. The first of the two morning sessions I attended was titled "Innovating the FYE Proposal: Moving Beyond "Library Week". Denise Wetzel of Mississippi State University discussed the history of the First-Year Experience class, demonstrated some cool tools for audience response, including "Plickers" and talked about the process of creating unique FYE classes at Mississippi State.
The second program of the morning I attended, entitled "Maximizing 'Down Time': Innovative Strategies to Build Student Engagement before the Start of Class" by Lindy Scripps-Hockstra of Grand Valley State University. I'll be incorporating the examples she shared for getting students started as soon as they enter the room into my LIB210 class this Summer!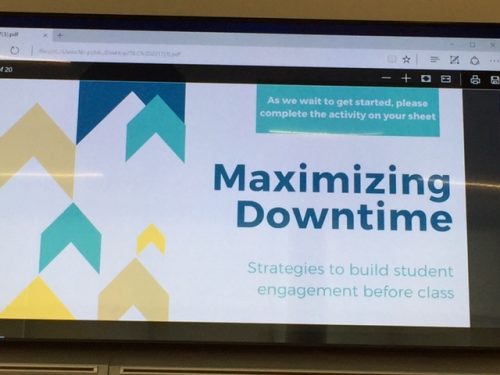 The first session after lunch, "Urban Legend or Pratical Pedagogy: Are You a Teaching Ninja?" by Candice Benjes-Small and Jennifer Resor-Whicker, was a fun and engaging interactive game where the participants broke into groups and attempted to identify urban legends around pedagogy. The last session of the day was by Jenny Dale and Lynda Kellam of UNCG entitled "Beyond Popular vs. Scholarly: Teaching Outside the Peer-Reviewed Checkbox". This session on using  BEAM to focus on how sources are used rather than identifying a source as peer-reviewed was a great exercise in engaging students in the scholarly conversation.
The four sessions were followed by a series of lightning talks and the closing of the conference. We were on the road by 4pm and back in Winston Salem by 6pm! TILC is an awesome conference that packs an amazing amount of content into one day! The conference website has links to all these great presentations!