Day One — ACC t-shirt (which we had to wear all three days) still fresh!
We started work on the Festival last fall and had four projects representing Wake Forest:
The best part of the Festival was getting to work with our talented faculty like Christina Soriano, Phoebe Zerwick, and Zak Lancaster and their great students. Wake the Vote had crew of seven students, IMPROVment had two and What is Language also had two. Both Zak's and Christina's students got to perform or give a talk.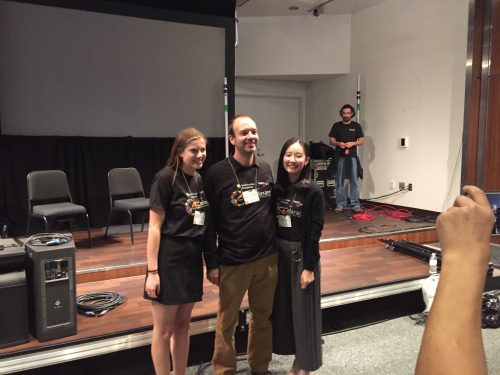 Zak with Keru Luo and Maddie Moseley
My biggest surprise came when my former boss and now Archivist of the United States, David Ferriero, made a surprise visit to hear the "What is Language" talk! Provost Rogan Kersh was in the audience and it was fun to introduce "old boss" to "new boss."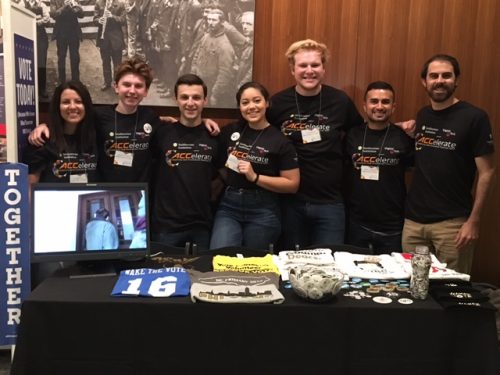 The Wake the Vote team
Phoebe Zerwick brought several of the individuals who were the subject of her documentary work with Forsyth Group Homes with her. The greatly enjoyed interacting with the visitors to the Smithsonian.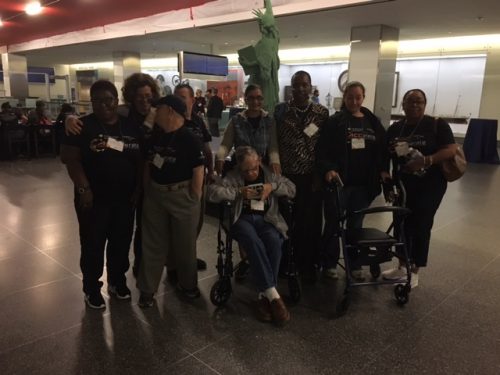 The Story of My Life crew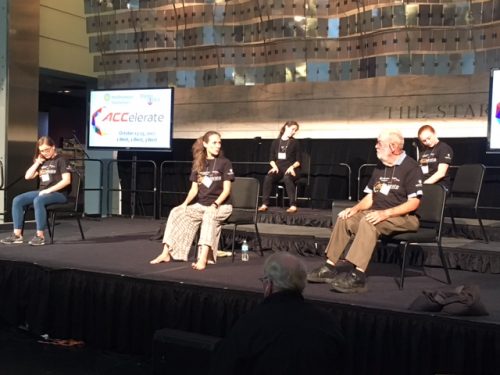 IMPROVment performance
Besides the great work by the Wake Forest contingent, I heard an amazing performance by Miami's jazz band and saw many terrific projects, including 3-D globes, surgical models, and a very cool electric car developed by Georgia Tech.
Our biggest challenge was getting the exhibits in and out of one of the most secure museums I have ever visited. Deliveries were tightly choreographed and we were fortunate to have worked with NCSU to combine our shipping with theirs. With one exception, our materials were straightforward — but the centerpiece of the Wake the Vote's exhibit was a ten foot long and seven foot wide voting booth made of the heaviest wood known. This behemoth was extremely difficult to move and it did not help that the movers were a dean and AVP from Wake and a Vice-Chancellor from NCSU. In addition to us, at some point we had faculty, curators, and students trying to wrangle this beast into an elevator. Somehow it made it to the second floor display area late Thursday and back to the loading dock on Sunday!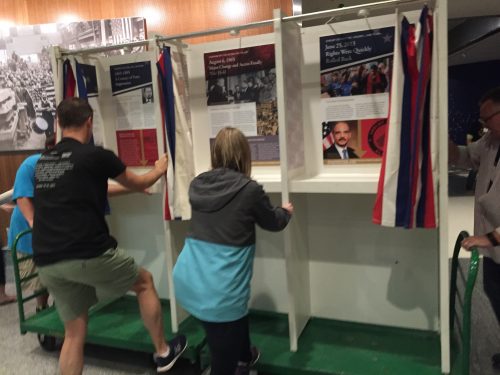 There is much more I could write and share, but I will conclude my saying this was one of the hardest and most rewarding experiences of my career. My sincere thanks go to our intrepid colleagues at NCSU — the move of the booth could not have happened with them. Also to Kristen Morgan, Susan Smith, Mary Beth Lock, Renee Berry, Tim Mitchell, Thomas Dowling, Scott Adair, James Bennett, and many others I am likely forgetting. Special thanks go to the Wake Forest teams for enduring long hours at Smithsonian and especially to my steering committee colleague, Andrea Ellis.