This article is more than 5 years old.
The North Carolina Independent Colleges and Universities (NCICU) Library directors met at Guildford College on Dec. 19th. For private college and university libraries, NCICU is the organization through which we negotiate our participation in NC Live. NCICU also plays an important role in advocating for private colleges and universities and helps us lobby the NC legislature for support.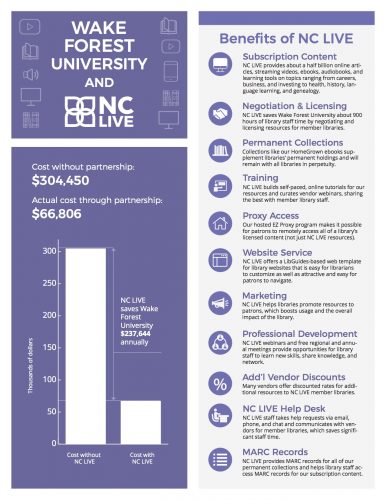 While ZSR is the second largest library in NCICU (after Duke), I always find this group interesting as the smaller libraries do some very creative programming and are often more nimble than us. From Guilford's new makerspace suite to Meredith's redesigned consolidated service point, we can learn a lot from our NCICU colleagues.
I was on the planning committee for the fall program, so of course I thought it was engaging! Guilford presented on it Wiser Justice Program, which brings information literacy and degree programs to incarcerated North Carolinians. Gerald Homes from UNC-G talked about their Library Diversity Residency Program and encouraged NCICU schools to thinks about ways we can get involved with such programs.
After lunch Jeff Kosokoff of Duke presented on his proposed "Carolinas Shared Monograph Retention" plan. Jeff has also presented this idea to the UNC system library directors and is intersted in getting NCICU institutions involved. We concluded the day talking about NCICU's Library Collaboration grant, which is presently focusing on reference services, accessibility, and WMS users. Several of us would like to add Jeff's shared monograph retention plan as another area for collaboration.
It was a very informative day and also great to see my NC colleagues.