The two full days of the conference are Sunday and Monday, my first session was "Free Range Advising: Meeting Students Where They Are" which had great ideas to make advising more accessible and made me feel very good about our advising model at Wake Forest. The next session, "Orienting the Scholarly Mindset: Placing Scholars Center stage" described an amazing program where faculty and students share their stories, TED Talk-style at a first-year orientation event with all the new students in attendance. We were able to watch one of these online, and it was impressive. They are scripted and rehearsed but delivered in a very approachable way, and most importantly, the format resonates with students. Another wonderful program on Sunday, "Getting Real About Fake News: FYS and Media Evaluation" was presented by librarians from Davidson College, where there was a strong desire to address Fake News after alumnus, Cameron Harris, published a Fake News story that made national headlines. (Very timely, as Roz and I will be referring to this in our LIB290 class on the same topic!)
On Monday night, a group of librarians attending FYE met up for dinner at a nearby restaurant. This group has grown from 6 librarians who met 5 years ago to 35 at this year's meeting! This was a great opportunity to meet other librarians involved with supporting first-year students, and I met several who want to team up and submit a panel presentation on "Extreme Outreach" for FYE 2019.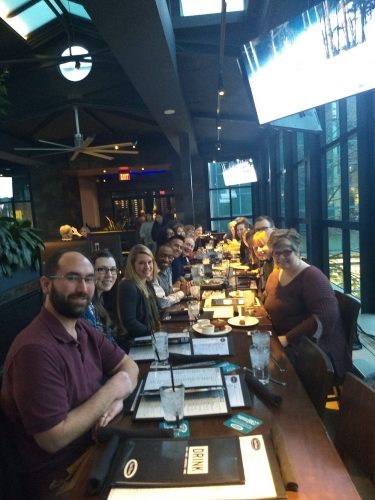 Other awesome sessions included on storytelling called: "Exploring Storytelling as a Professional Practice and Pedagogical Approach" that indicated positive results when sharing our own experiences around success, failure, and grit with first-year students, and a session on the success of including Information Literacy instruction in Summer Bridge Programs. My favorite program was a toss-up between two: one presented the data gathered from the 2017 National Survey of First-year seminars and the other was a presentation by our own Wake Forest faculty about the "Collaborative Development of a Homegrown College Transition Course"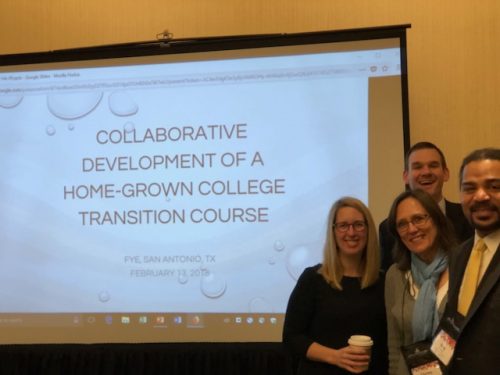 All in all, it was a productive three days in a very chilly San Antonio! I'm already looking forward to the next FYE conference I can attend!