I always enjoy visiting New Orleans, even with a forecast of 90+ degree temperatures. This was my fifth visit to the city (all WFU-related trips), but this time was special because I believe this was my final ALA conference. I completed my 3-year commitment to LITA (Library and Information Technology Association) as director-at-large and, with plans to retire in another year, this most likely was my grand finale.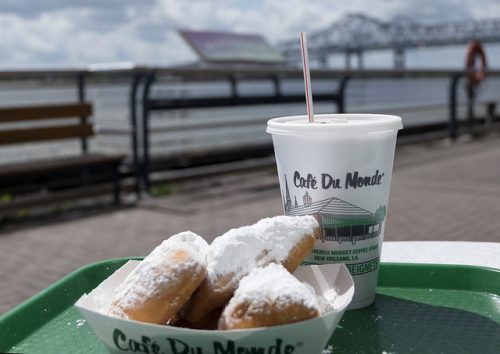 In light of this, I made an early decision to indulge myself (somewhat – not like how I indulged myself with beignets in the image above) by attending programs that I typically pass up because of competing LITA meetings/programs. Not to say that LITA programs aren't highly worthwhile, but maybe 9 straight Top Tech Trends attendances could give way so I could watch a screening of "The Public," an independent film written, directed and starring Emilio Estevez (who held a Q & A following the film). I also joined thousand of librarians in a winding mile-long queue to see Michelle Obama at the opening session. It was worth the wait. She talked about her forthcoming memoir, Becoming, due out this November.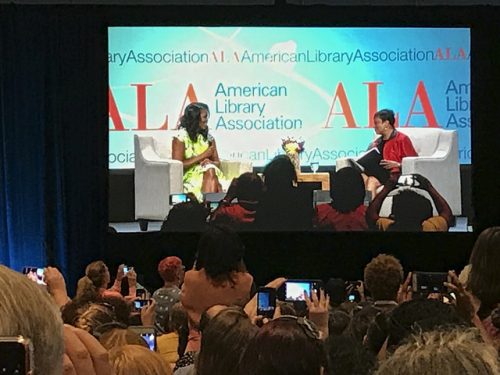 I'm a fan of Doris Kearns Goodwin, Presidential Historian, who is a frequent guest on Sunday's Meet the Press. So I was excited that she was one of authors in the Auditorium Speakers Series, talking about her new book, Leadership in Turbulent Times. Goodwin explores development, growth and exercise of leadership through the four presidents she's most studied – Lincoln, Teddy Roosevelt, FDR and LBJ. She refers to them as "my guys."  I've already pre-ordered it (out in September).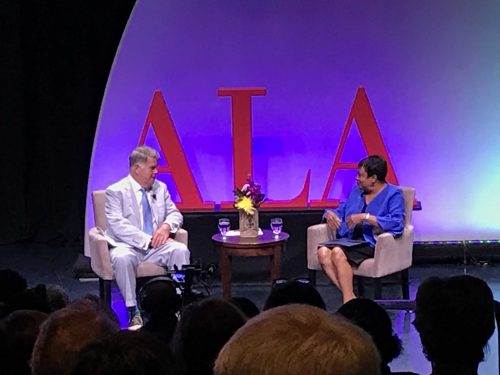 My other famous people presentation attendance was to hear a conversation between Carla Hayden, Librarian of Congress, and David Ferriero, Archivist of the United States (and friend of our Dean Pyatt!). Their exchanges showed that there is a friendly bit of competition between the two organizations, but also a great deal of mutual admiration. They discussed their respective collections and their outreach efforts, including a Sleepover at the National Archives (where Ferriero cooks pancakes in the morning), a potential progressive event including the Smithsonian as a partner, and their use of citizen archivists at the Archives and Crowdsourcing at LOC.
Of course, I met my LITA board obligations at the Saturday and Monday board meetings. Monday was a departure from the usual meeting. For the first two hours we had a combined meeting with the boards of LITA, ALCTS, and LLAMA. You may have heard that these 3 small divisions are exploring the feasibility and advisability of joining forces to create one combined division. Discussions have been underway since Midwinter between the Executive Directors and board leadership of all three divisions, but this was the first opportunity for all three current boards to gather and join in the discussion and think about next steps. There is a space on ALA Connect for Alignment Discussions (must be an ALA member to log in).
Finally, as usual, the real high points of each conference are catching up with old friends and celebrating the accomplishments of colleagues. I was able to touch base with
Lauren Pressley (poised to begin her term as ACRL president this year),
Elisabeth Leonard (who works for AAAS these days, and put on a lunch & learn brunch complete with Bloody Marys and mimosas),
Chelcie Rowell (and husband Eric Brownell), who are both doing well in Boston (Eric is now at Harvard), and
Erik Mitchell, now University Librarian at UC San Diego (he wears a suit to work every day!).
And I was most excited to watch Lauren Corbett receive her ALCTS award for Leadership in Acquisitions and to attend Wanda Brown's celebration as newly elected ALA president elect. It is so much fun to see how ZSR faculty and alum have grown and succeeded, isn't it?