On May 11th I participated in a colloquium at McGill University called "Kick-Starting ROAAr and More: Towards the Future." ROAAr is the special collections library at McGill, recently formed out of four formerly separate units — Rare and Special Collections, Osler History of Medicine, Art, and Archives. The goal of the colloquium was to have the ROAAr staff meet with some thought leaders in special collections (plus me) from both the U.S. and Canada as they develop their new organization and mission.
You can read the full agenda here. My assignment was to talk about engaging the university and help lead several break-out sessions. Rather than posting a summary of my talk, I'll share the "visual notes" one of the McGill staff did. He did this for every session!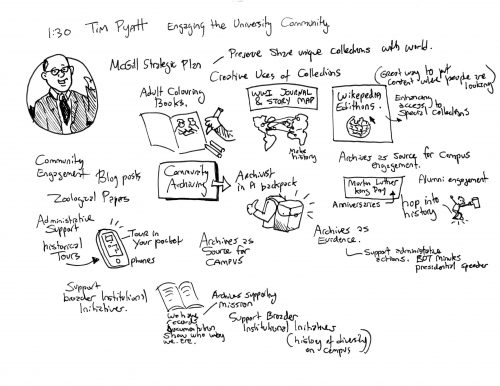 If you look closely, you will see some Wake Forest ideas that made it into my talk. I actually got the most questions about my time at Penn State (archives as evidence) and dealing with subpoenas and litigation holds. I did mention scandals make great documentation opportunities for archives.
It was a great day and I felt honored to be part of this colloquium!