Carol's observations:
The term "functional specialist" is often used when discussing liaison roles. During the institute, I observed that the term is more likely to be used for newer and emerging specialties (e.g. Data Services Librarian), but is less likely to be used with more classic functions, like Government Documents Librarian. Why is that?
When tables were asked to brainstorm what liaisons could stop doing, "buying books" was often mentioned (as was "reference desk hours"). I'm scared to ask how people here feel about selecting books, but I probably should, as this idea was mentioned by almost every table.
Some specific ideas from my "unconference" station:
Fund compression, e.g. all science journals on one fund.
Use tools like Find a Journal to do accreditation reports if you have compressed funds.
Eliminate collection development policies (the defender of the policies at our table mentioned that it bolsters you when you need to say "no" – something we don't like to do anyway).
Replace collection development policies with "department profiles." This idea was controversial at the library that implemented it. At WFU, some of that data already exists on our Liaison Dashboard.
One nice bonus from this experience was catching up with Megan Bennett. I first met her when she worked with Resource Services as a high schooler during the summer. Over the years, she has encountered various ZSR folks as she went through college and library school. Now she's beginning her professional career at the University of Alabama.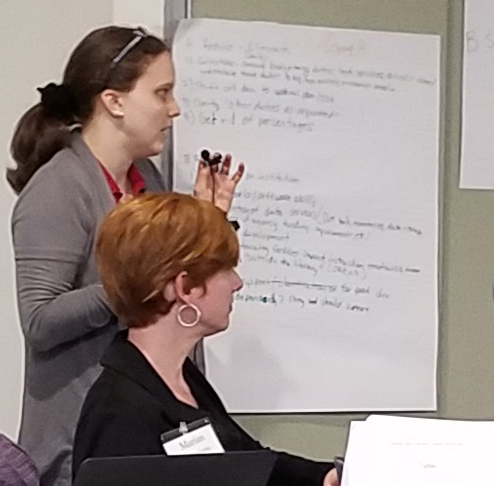 Megan makes a point. Photo definitely not by Ken Bennett.