After a few days in Tampa, FL, for the DLF/DigiPres19 conference, I was convinced all conferences should be at the coast in October. (Well, at least until tropical storm Nestor chased us away!) DLF and DigiPres are two collocated events in the same week, and registrants can choose to attend either or both events. DigiPres and DLF panel sessions overlapped on Wednesday.  This year, I served on the planning committee for DigiPres and moderated two sessions: Digital Preservation of A/V Materials at the Library of Congress, and MinuteMadness, in which speakers have just 60 seconds to tell a story or describe a project.
The keynote speaker this year was the fantastic Alison Langmead, who initiated the SustainingDH project and led workshops on this approach around the country over the past year. Alison's talk, Sustainability Is Not Preservation, focused in part on the development of the Socio-technical Sustainability Roadmap (STSR), a toolkit designed to help digital humanities project teams navigate the stewardship needs of their projects. One of the critical points in her talk was that there are substantial differences between practices for ensuring that an individual digital project is sustainable and formal, long-term digital preservation protocols. The primary goal of digital preservation is to ensure that electronic records of enduring value persist over time, whereas digital scholarship collaborations can be managed in shorter timeframes – she recommends, for example, that collaborators think about project stewardship in three-year increments. In her words, "sustainability planning, by contrast, flourishes best when the fluid, changing nature of contemporary digital practices and products are accepted, and the possibility of a project retirement date is assumed."  Adapting the NDSA Levels of Preservation in language appropriate for content creators, the STSR provides concrete, standards-based steps for teams to enact to approach digital stewardship deliberately and mindfully.
Smaller conferences offer a lot of benefits, from sessions that aren't overcrowded to the opportunity to have extended conversations with speakers and other attendees. DigiPres, as a shorter, topically-focused complement to DLF, offered the chance to connect with both researchers and practitioners and explore a wide range of topics, including the use of multispectral imaging for manuscript analysis (Duke University Library); the evolution of long-term digital manuscript projects (Samuel Beckett project at Emory); preservation of public TV media in Cuba (William and Mary); and a test drive of the new Toolkit for Complex Digital Curation Decisions (MIT). (As a side note, it would be equally lovely to have a Toolkit for Complex Life Decisions.)
Aside from the MinuteMadness session, which was a blast, the highlight for me was the presentation on a collaborative video archiving project, based at William and Mary, that supports ITVS Cuba in preserving documentary videos produced by the station. The challenges of connecting the small public television archive with much-needed equipment and digitization/reformatting resources, given U.S.-Cuba travel constraints, have heightened the need for creative, flexible strategies. Archives staff have worked with the station to develop economical workflows for protecting their legacy media, and the project managers are currently looking for grants to help support the collaboration going forward.
I also had a chance to venture out of the hotel and have lunch with a longtime friend at an incredible deli, Mazzaro's, that felt a bit like the Tardis – surprisingly spacious inside and featuring an olive bar, a wine bar, a coffee bar, a deli counter, a bakery, and a covered patio. I may be back…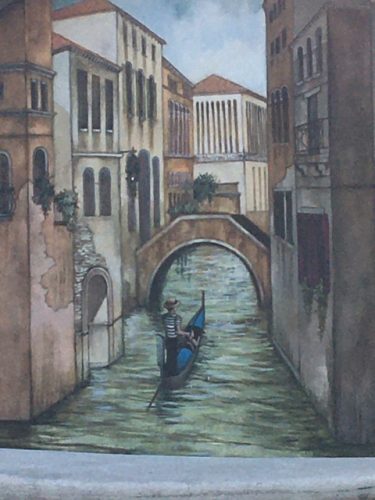 (A mural on the exterior wall of Mazzaro's Italian Market)
DLF and DigiPres will take place in Baltimore, MD, in November of 2020.