useum has two separate buildings connected by a walk-way on separate floors. We spent the majority of the morning in the Nature Research Center and the rest of the session touring and speaking with the Janet Edgerton the Head Librarian at the Brimley Memorial Library located in the basement of the Nature Exploration Center.
Typically, when I think museum, I'm imagining looking at staged and static exhibits. However, the NC Museum of Natural Sciences contained live exhibits in both buildings. The Natural Exploration Center focused on educating the public on science, whereas the Nature Research Center delved into the research behind the science. From looking into labs where PhD researchers affiliated with different colleges worked with students and volunteers to talking to the head veterinarian on staff about the demo room where individuals could see and interact during operations  and check-ups on one of the thousands of different species living at the museum, I turned around, peaked through the glass, snapped a couple of photos, and followed like a lemur being led to the edge of the proverbial cliff. There was even a surprise potential future exhibit that we were able to see "up close and in person" behind the scenes.
The Brimley Memo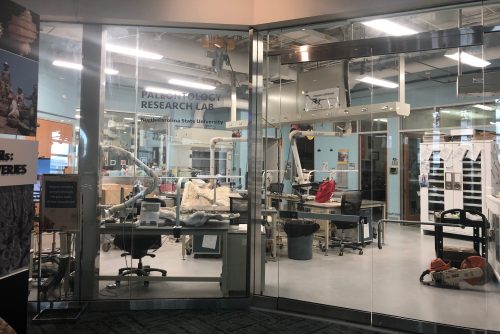 rial Library operating on a collections budget of $5,000 a year contained various books, encyclopedias, and other resources to support not only the museum, but the researchers in the labs as well. Imagine building a library collection with only $5,000 per year. Janet expounded on how she managed her funding, wrote grants for additional funding, and partnered with different colleges to connect with their digital collections.
I had the pleasure of traveling to Raleigh with Lara Luck (Collections Development Manager) and Rudy Yisak who works at the Rural Hall Public Library. Thank you Sarah for the prior introduction to Rudy and Lara! During the business meeting, I learned about upcoming open positions in STEM-LINC as well as the Fall online workshop planned for STEM-LINC. My goal in attending the workshop was to network with fellow North Carolina librarians interested in STEM at individual colleges/universities as well as in industry. However, I walked away with a new appreciation for science and with strategies on how to bring science to life.