Forgive my tardiness, it's been so long since I've had to do one of these! In August I went to Boston for the Society of American Archivists Annual conference. Much like other group events, this was a 'first time in two years' for the organization and the majority, if not all, of it's attendees. It was also my first time going to Boston, a very lovely city with lots of history and good food. I kicked off my conference by joining attendees at a New Professional/First Timer coffee break. Although it was not my first time attending SAA I felt more at ease mingling and chatting with colleagues after graduating and having a few years of professional experience (it definitely made a difference – conversation with other attendees was much easier.)
This year's conference was three days and included in-person, virtual, and hybrid sessions. I opted out of virtual sessions to attend the non-recorded in-person presentations. I will highlight three standouts:
Reimagining Access: Inclusive Technology Design for Archives and Special Collections (Robert Dirig, Elise Co, Joshua Halstead, Sara White, Todd Masilko)
The Designmatters matters department from the ArtCenter College of Design in Pasadena, California received an Institute of Museum and Library Services (IMLS) grant to explore ways to improve access to digital archives for people with disabilities. Designmatters is an educational department within the college that offers a minor in Social Innovation that allows undergraduate students to work with communities and design for positive social impact. Panelists discussed using participatory interviews from people with disabilities to inform how they reimagined and redesigned access to digital collections. Students working on the project also consulted with archival professionals to learn about the role designers have in reshaping digital access. The goals of their project were to utilize concepts in the areas of universal and interaction design to accommodate individuals with an array of disabilities ranging from hearing and visual impairments to mobility issues that prevent them from effectively using and accessing archival materials. Learning components of the project included a symposium and hands-on opportunities in classes and design studios. Some solutions shared included exporting digital materials on webpages to [assistive] technologies (Speechify, Zotero, and Capti..), video recordings of archival workers handling materials, and including alternate text for resource/object description. Here is a link to this specific project, but I highly recommend checking out the other interesting projects from the Designmatters department from the ArtCenter College of Design.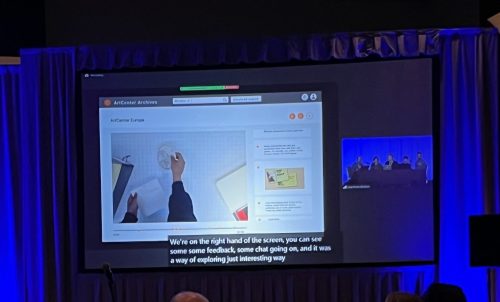 Hip-Hop Archives: Responsibilities, Opportunities and Challenges in an Emergent International Movement (Martha Diaz, Pacey Foster, Regan Sommer McCoy, Murray Forman, and Mark V. Campbell)
This panel was a moderated discussion between five archivists and collectors who were the founders of their respective archival collections that document hip-hop as a music genre and as a cocial and cultural movement movement. The focus of the discussion was for panelists to share their experiences with the audience and each other about their successes and challenges starting and sustaining their collections. General issues seemed to begin with building trust with community members and storage, however, as collections have grown and the popularity of hip-hop continues to wax, panelists have expressed their challenges lie in finding ways of recording, documenting, and preserving. It's easy to associate hip-hop with the genre of music it represents, but it also extends to the graphic and performing arts like graffiti and dance. Two examples that present challenges like collecting graffiti art but providing artists with anonymity because of legal issues; and watching break dancers on obsolete technology. Additionally, issues of stewardship and access were addressed – materials held in academic archival institutions and outreach events that did not consider geography and transportation of targeted communities proved to be barriers of access. But overall, panelists were optimistic and excited about their collections and discovering other opportunities to bridge generations and communities of those interested, inspired, and impacted by the history of hip-hop.
Emerging Voices in Archives (Malia Guyer-Stevens, Beth Mawhinney, Michelle Rosquillo and Abigail Schleifer, Lia Warner)
This was another moderated discussion that primarily served to highlight the projects of current student professionals and recent graduates working on new approaches to interpreting and using archival methods and collections. Projects included using archives to research food pathways, using Wikidata to explore underrepresented archival collections, the matriarchal influence on managing historical records, and how COVID-19 impacted the Labor Movement.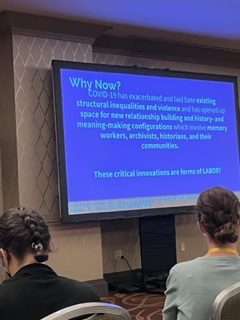 "Remember the Ladies": The Matriarchive & Transgenerational Memory" was a presentation from panelists Michelle Rosquillo and Abigail Schleifer. They discussed Johanna van Gogh-Bonger's role in promoting her brother-in-law, Vincent's art career (you may have heard of him). As an archivist who has worked extensively with historical documents of men, I have observed how often women are forgotten or separated from the achievements of their husbands and sons despite their roles in career and family management as well as their heavy community philanthropy.
I also attended sessions that covered the potential impacts of AI in the archives and a panel that covered the efforts of the Community Archives Workshop in helping organizations with archiving and preserving audio-visual materials.
__
Regardless if we want to see the COVID pandemic mentioned in our for-fun entertainment like books, movies, and shows, we can't forget that it happened nor can we deny the impact it has had on our relationship to work and productivity. Aside from the grueling lockdown restrictions and public health worries, many employees found themselves having identity crises related to self-worth and output. The opening and closing keynotes delivered messages that addressed these dilemmas and how we coped (or are trying to cope…still?) SAA President, Courtney Chartier delivered an opening keynote that referenced Katrina Spencer's 'The Comprehensive Guide to Resisting Overcommitment'. Chartier encouraged community and self-care by showing grace to others and ourselves. To bring the conference full-circle, the closing keynote was a conversation between Jamilah Gabrielle and Katrina Spencer where the two discussed making [LIS] work and life, in general, more meaningful through boundary setting ("it's not about saying no, but more ways to say yes to respect your boundaries…").
To sum up my experience: I had a great time. I liked having virtual options and appreciate that the recorded sessions can be accessed at further dates, hopefully this privilege sticks around. I think if we want to encourage access and inclusivity, we have to consider the barriers that (shouldn't) keep many of our colleagues from attending conferences and other comparable events.
As a thank you for sticking around this long: