Atla 2023 was held in Fort Worth, TX, the second hybrid conference since being online-only in 2020-2021. For a small conference like this, a hybrid model seems to work well, and allow many presenters who would otherwise not be able to attend to be part of panels, or even present on their own.
As you can imagine, Texas isn't shy about being Texas, as illustrated by this giant cowboy hat in downtown Fort Worth, a few blocks from our hotel.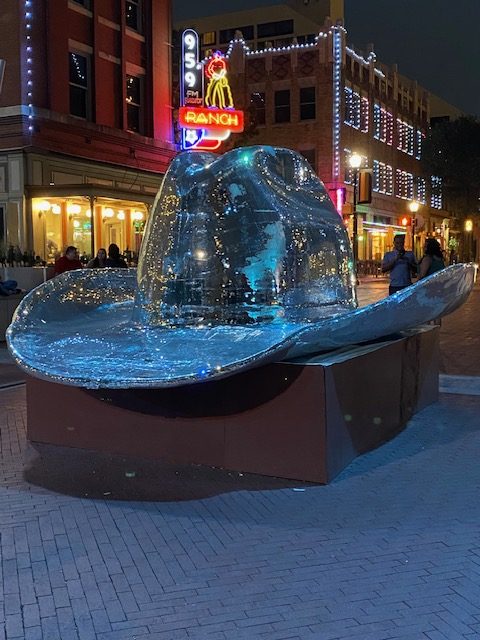 Said hotel was the Hilton Fort Worth, which has the distinction of being the hotel where John F. and Jacqueline Kennedy spent the night before they departed for Dallas on November 22, 1963, after he gave what was his last speech in front of the hotel. There is a memorial to JFK across the street from the hotel:
I'll highlight a couple of sessions and thoughts that stood out to me:
What, Why & How? Publishers, Ebooks, and Theology Libraries: This session consisted of panelists representing several theology publishers responding to questions regarding their ebook publishing decisions and models. The reps were from Westminster John Knox, Fortress Press, InterVarsity Press, the Jewish Publication Society, Wipf & Stock, and Emmaus Academic. Each panelist introduced their publishing house and their history with publishing ebooks. Some had extensive experience with ebook formats going back to the 1990s, while others were significantly newer, only being founded in the 2010s, and thus had published basically their whole catalog in both print and ebooks. Interestingly, however, they all basically agreed on their current policies and outlooks:

they sell the metadata/content to distributers (EBSCO, ProQuest, JSTOR, Amazon, etc…), and then the distributors are in charge of formatting, pricing, and licensing options
they are all converting their backlists to ebooks
they want libraries to contact them directly if there is a book they would like to see converted to ebook format (it was suggested by the Atla Executive Director, who was in the room, that Atla work as a consortium/clearinghouse for these requests)

old licensing agreements and author contracts can complicate this process as they obviously didn't anticipate the new technology we have now
there are also other reasons, as simple as a switch that forgot to be flipped, as to why a book isn't working, so contact them directly
I found this panel really interesting. I also wondered how different it would have been if it were held at Charleston, with reps from the distributors also in the room. Would they feel that they alone are responsible for the (idiosyncratic?) pricing we see in GOBI? What about how much the publishers are charging for the content/metadata, which the distributors then have to mark up to make a profit? Anyway, lots to think about, and I'm glad a session like this was convened.
CV and Resume Workshop for Mid-Career Professionals: Saturday morning was reserved for several workshop offerings, and as a mid-career librarian whose CV needs a pruning and sprucing, I was happy to see this offered by my dear friend Megan Welsh, from UC-Boulder. One of the key takeaways from the session was that CV's don't go anywhere alone, they are always accompanied by cover letters or, in our case, summary letters, so they don't have to explain everything. It should be easy to understand from a CV what you are most proud of, and what is most important to you about your position/career. It may also be important to have a few different CVs: the whole shebang, one that focuses on teaching or presenting, one that can be easily modified for apply to jobs or grant applications, one for the provost, etc… One specific thing that I hadn't thought of working in to my CV is the number of downloads for my published articles. I get a report each month from the digital repository where they are located, but hadn't thought to include that in my publication information. I have long lists of dos and don'ts that were shared, as well, so if anyone is interested in those, just let me know! I'm happy to share!
I also attended sessions on "What are you Looking For? Discoveries Made Through a Library Website Usability Study," "What about the Aqueduct? Does Decolonizing the Library Mean Deaccessioning Augustine?" "Always Room for Mindfulness: Creating Contemplative Space in Your Library," and "Models of Librarian and Teaching Faculty Relations." The full schedule of sessions is available at Sched. Use the "filter by type" on the right side to see session names and descriptions by topic. If there are any you are interested in learning more about, let me know! Slides, video, and documents will be uploaded over the next month and I'm happy to share those as they are available.