Over Spring Break, Summer and I attended the annual Southern Conference of Academic Business Librarians (SOUCABL) at the University of Georgia in Athens, GA. This is, as the name suggests, a very "boutique" conference – with a narrow focus and familiar faces regularly attending. It's also (in)famous within the Business Librarian community for being the "last conference standing" since it was quite literally during the March 2020 SOUCABL that universities across the country began shutting down due to COVID19, leaving a number of attendees wondering how they were going to get home!
This year's SOUCABL was the first back in-person since 2020 and my (Morgan's) first time. There were librarians from approximately 25 different southern regional colleges and universities as well as vendors from Mintel, PrivCo, Sage, Statista, DataAxel, and a few others. Summer and I were honored to have our presentation proposal accepted as one of six presentations during the one-day conference. As to be expected with such a narrowly defined scope, all of the sessions were incredibly relevant and interesting with the added bonus of having plenty of opportunity to ask questions and follow-up with presenters given the intimate and relaxed nature of the proceedings.
Morgan's Highlights
Two sessions stood out to me – Nora McKenzie from Emory University's presentation "Learning from the Experts: Building Workshops with Vendors to Enhance Student Business Intelligence and Jennifer Horne from University of Kentucky's lightning talk on promoting their library's popular business collection
In Nora's presentation "Learning from the Experts", she discusses how her team of five (five!) business librarians orchestrated a series of workshops with database vendors – Mintel, Simply Analytics, and Pitchbook to be exact – that undergraduate students could attend, taking a deep dive into these specific products while earning a certificate in the process. A few things that stood out to me:
The vendors do the teaching which makes sense since they are the experts in their own product(s). Additionally, outside of the organizing and marketing labor, the librarian's time is freed up for other tasks.

These are tools that a number of business majors will go on to use in their work post-university. This was cited as one of the motivating factors for signing up for the workshops and the vendors focused on real-world use cases when running the workshops.

Business databases are often expensive, have very specific use cases, and hard to use which can make it difficult to justify their cost per use. Obviously getting folks comfortable with these tools and using them more, plus developing a positive relationship with the vendor, has some very real benefits when evaluating continued renewal and cost of these tools.
Jennifer's lightning talk on promoting their library's popular business collection spoke to my public library roots and brought back fond memories of me as a graduate student taking the UNCG's School of Education's Curriculum Materials Center Book Bike to the UNCG Middle College's campus so high school students could check out popular YA titles during their lunch break. Jennifer described some of the different tactics/strategies she employs to promote both her library's popular business collection while also connecting with students and staff at UK's School of Business. What stood out to me:
You've got to try a number of different tactics to promote your services as a liaison! I think this is something we all know intrinsically, but it's nice to know some struggles are universal (i.e. you aren't alone!).

Print books are still a powerful tool for connection! Jennifer described how students, faculty, and staff were very enthusiastic to find out that the University Library had books that weren't just for academic purposes. Jennifer found that having "pop-up" displays around University breaks, where everyone could browse and check-out books remotely before heading off on holiday, was a particularly fruitful time for not only increasing circulation counts but also connecting with users in a low-stakes, low-pressure environment.

Another surprising insight was the impact of internships on student motivation to both select and read specific titles. Most business students (Wake student's included) have some sort of internship requirement. Jennifer found that some popular internship sites, such as McKinsey and Deloitte actually put out "what we are reading" lists. Making sure these titles were available and promoted as such was a great way to connect with students preparing for internships.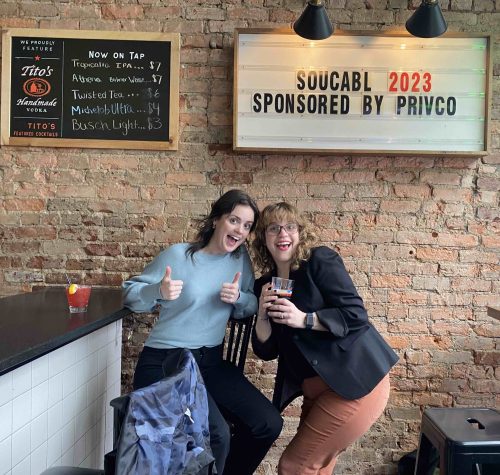 Caption: Business Librarians caught in their natural habitat at SOUCABL 2023
Summer's Highlights
My favorite session was by the keynote speaker Doug Olsen, Boston College's 15-month young business librarian. He told his story of first going to Simmons (like me!) and then getting an MBA and starting what was a lengthy career in corporate finance. He decided to make the transition from corporate life to academic business librarianship. Doug shared how he made his way through the 22-month long academic job search to his current experience of, adaptation to, academia. I loved hearing how his corporate experience informs and challenges his work at Boston College. For example, he talked a lot about the code switching that is necessary for him to communicate, understand and be effective within the library.
For me, Doug's presentation was a refreshing perspective of how academia has a specific culture, and many subcultures, that can go unseen by many of us that have been here for a while. It was an inspiration to realize the benefit of considering academia, the library, etc with outside eyes to form stronger connections, understanding, etc as we aim to provide the best service we can.
Overall, it felt amazing to be back in-person at SOUCABL. I loved getting to introduce Morgan to the SOUCABL crew and to quaint and fun Athens, Georgia. Next March can't come soon enough.