A Description of the Island of Jamaica, with the Other Isles and Territories in America, to which the English are Related
Adopt a Book*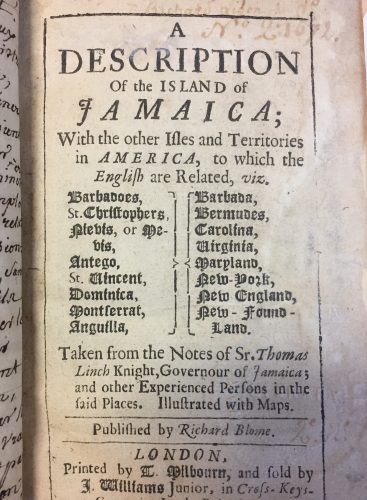 Title A Description of the Island of Jamaica, with the Other Isles and Territories in America, to which the English are Related
Author Richard Blome and Sir Thomas Lynch
Date 1672
Publisher London: Printed by T. Milbourn
First edition. This description of English colonies in Virginia, the Carolinas, and the West Indies was published to entice new colonists to the Americas. It is significant especially for its three important early maps of Carolina, Jamaica, and the mid-Atlantic colonies.
Proposed Treatment
Surface clean text; repair 3 fold out maps and text leaves as needed.
Adopt a Book*
Thank you for your interest in adopting this item!