The Special Collections Department at ZSR recently received two grants to digitize primary documents of North Carolina religious history.
Librarians from the North Carolina Baptist Historical Collection at ZSR are participating with colleagues at Duke and UNC-CH on a planning grant sponsored by the Library Services and Technology Act. The History of Religion in North Carolina project aims to produce a census of primary source materials documenting the religious history of the state. The initiative will focus on print sources such as church histories, biographies and published documentation. By November 2010, 4,000 titles had been identified as prospects for digitization for all religious traditions, and over 2,000 of these were Baptist. Project leaders anticipate that the final number of volumes will reach at least 7,000, with Baptist materials remaining at about half the total for all religious groups.
The grant's steering committee anticipates submitting the grant for digitizing the sources in 2011-12 and hopes to receive the funding to begin large-scale digitization in 2012-13.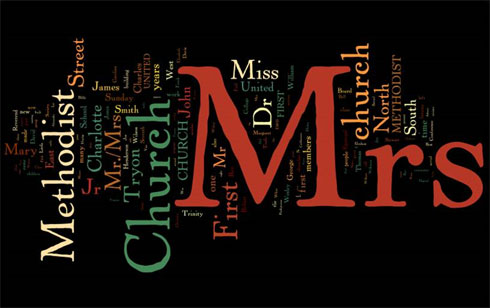 Visit the project blog for more information about the History of Religion in North Carolina project.
ZSR has also received grant funding from the Institute of Museum and Library Services to digitize and provide online access to one of North Carolina's oldest continuously published newspapers, the Biblical Recorder. Under the provisions of the Library Services and Technology Act, the grant is administered by the State Library of North Carolina, a division of the Department of Cultural Resources. As a historical resource, the Biblical Recorder transcends parochial and confessional categories, offering texts and images that open windows into domestic, regional, national and international spheres in the 19th and 20th centuries.
Even the publishing history of the Biblical Recorder is full of surprises. The man who actually managed its printing for its first decades was an African American, Virgil Jones. Its first editor, Thomas Meredith, died with the publication in debt and foundering. It was his wife, who also wrote editorials, who finally managed to make the newspaper financially stable. The Recorder was the only southern Baptist publication that published continuously during the Civil War, documenting the powerful effects of events during that pivotal period. Missionary journals from far-flung destinations like India, China, Burma and Africa; medical theories; fashion trends; revivals; agricultural news; and the defining national debates about race, prohibition, suffrage, education and social welfare represent just some of the content that will soon be available and searchable online. The North Carolina Baptist Historical Collection has the most complete set of Biblical Recorders anywhere, so local researchers can examine the originals as well as the digital papers.