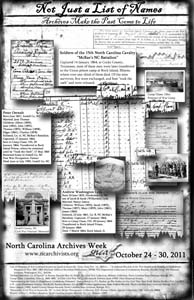 The Society of American Archivists states: "October is American Archives Month-an opportunity to raise awareness about the value of archives and archivists. There is strength in numbers, and our collective voice can be more powerful than individual voices when we set aside time each year to celebrate our collections."
In an effort to localize and focus the attention on North Carolina archives, the Society of North Carolina Archivists (SNCA), with the support of a proclamation by Governor Beverly Perdue, celebrates "Archives Week." This is a statewide effort to develop programs, events, exhibits, and overall awareness and use of archives.We here at ZSR Special Collections and Archives are excited to celebrate along with so many cultural heritage institutions across the state. Archives Week is October 24th-30th, but to us, every week is Archives Week!
Why limit your time in an archive to just one week? This semester alone, we have had the Wilson Wing 20th Anniversary celebration, theASERL Civil War in the American South contributions, and the Historic Bibles exhibit. The Wilson Wing celebration included an online exhibit and a beautiful display of materials from the University Archive. Many of the monographs featured in the Historic Bibles Exhibit are part of Megan's wonderfully written and informative Rare Book of the Month posts, part of the< a href="http://zsr.wfu.edu/blog/special/">Special Collections and Archives blog.
In celebration of this year's Archives Week theme, the Sesquicentennial of the Civil War, Craig and I have put up a small exhibit in the entryway of ZSR to encourage students, faculty, and staff to come to the archives and discover what we have. We find new materials everyday and are anxious to tell the world about them. Please stop by the sixth floor, read our blog, or "like" us on Facebook and show your support for the archives!