2015 marks the 150th anniversary of the birth of William Butler Yeats, one of the most important and influential literary figures of the 20th century. In celebration of the Yeats sesquicentennial, Z. Smith Reynolds Library's Special Collections department has opened an exhibit of materials from its extensive Yeats collection.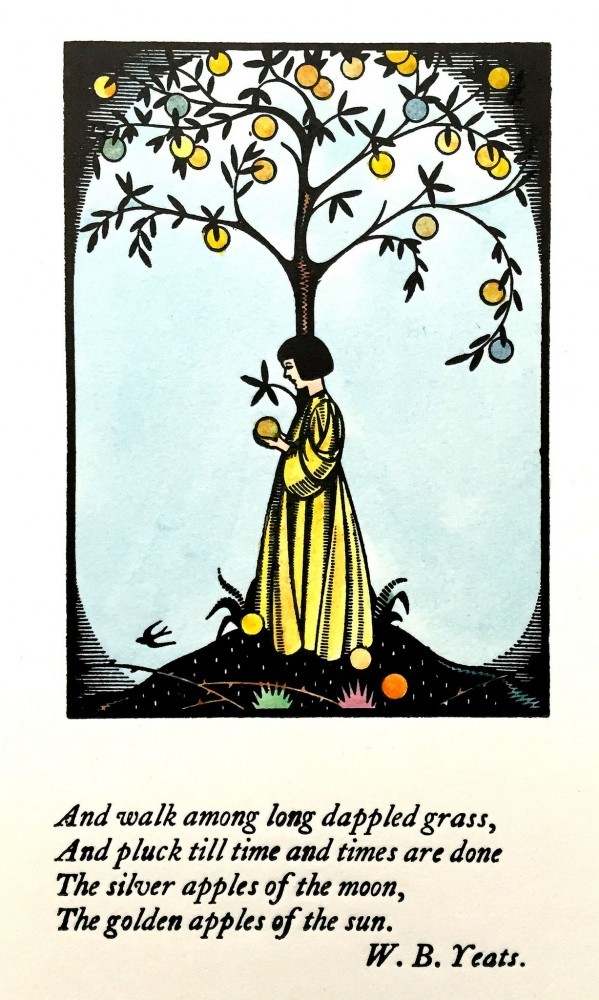 February 2015 – August 2015
Z. Smith Reynolds Library Special Collections & Archives (Room 625)
Curated by Megan Mulder
William Butler Yeats was born in Dublin on 13 June 1865, the oldest of four children in an Anglo-Irish family. Though he spent much of his childhood in London, Yeats always identified as Irish. He devoted much of his life to promoting and sustaining a distinctively Irish literary tradition. During a career that spanned more than 50 years and included a 1923 Nobel Prize for literature, Yeats published more than 100 works of poetry, drama, and prose. His interests were wide-ranging and his devotion to his art was all-consuming. By the time he died in 1939, Yeats was a towering figure in the world of English literature.
Yeats was deeply interested and involved in the design of his publications. As the son of an artist he was acutely aware of the interplay of his text with the material and visual aspects of his books. ZSR Library's exhibit traces Yeats's life and career through the changing designs of his publications. Included are many examples of Yeats titles from the Dun Emer Press (later renamed the Cuala Press), a small hand-press establishment run by Yeats's sister Elizabeth. Also on exhibit are books designed and illustrated by Althea Gyles and Thomas Sturge Moore, Abbey Theatre publications, and other materials representing all aspects of Yeats's long career.
On April 16, 2015 the ZSR Library Lecture Series will celebrate the Yeats exhibit and poetry month with a talk by Dr. Jefferson Holdridge of the Wake Forest English department. This event will take place at 3:30 p.m. in the Special Collections & Archives reading room (ZSR 625).
The W. B. Yeats and his Books exhibit will remain on display through July 2015. The exhibit can be viewed at any time during Special Collections & Archives regular hours of 9:00 a.m.-5:00 p.m., or after hours by appointment. For more information, please contact the Special Collections & Archives department.