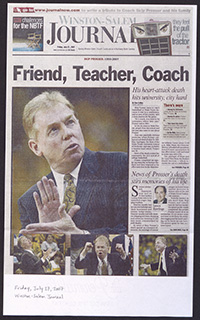 Looking for great biographical information about people connected to North Carolina Baptist history, as well as notable individuals linked to Wake Forest's rich past? If so, we have great news. It's just a mouse click away on WakeSpace Digital Collections!
There are currently 1161 individuals uploaded to this growing online collection. This includes 303 names that were uploaded this week—from names Prosser to Richards.
ZSR's Digital Scholarship Unit and the Special Collections & Archives department collaborated to make these vital materials freely available online to the public—in hopes of making the research process less challenging for historians, biographers or even family members seeking information about past kin.
What's in the collection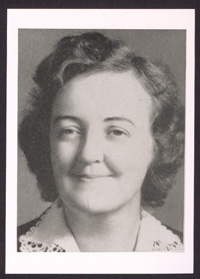 The contents within each person's listing in the Biographical Files collection vary, but may consist of newspaper clippings, photographs, obituaries, resumes, and photocopies of historical information about the person. Each person's materials are digitized and combined into a single PDF file for download to your computer, tablet or smartphone.
A highlight to this week's new additions include revered Wake Forest basketball coach Skip Prosser, who, among other accomplishments, led the men's basketball team to its first No. 1 national ranking. Or if you just plan to browse the collection, you may come across the addition of Beulah Lassiter Raynor, the esteemed English professor who taught at Wake Forest for 34 years. She retired in 1979 as the last full-time member of the English department who also taught at "Old Wake Forest."
Production
Creating this digital collection began with Special Collections & Archives, who located, compiled and alphabetically sorted the physical materials pertaining to each person. Each person's materials were then placed in their own physical folder and carefully boxed. These boxes can hold up to 300-plus folders (which is the approximate number of folders in the Prosser–Richards box).
Next, the members of the Digital Scholarship Unit performed digitization by use of a Zeutschel overhead scanner located in the Digitization Lab. ZSR student assistants produced most of the leg-work—collectively generating thousands of scans used to generate access (PDF), master (TIFF) and thumbnail (JPG) files. The access file is what the patron downloads on WakeSpace Digital Collections to view that person's biographical materials.
Following the initial digitization, post-production is performed. This includes but not limited to ensuring that all the folders for each box were digitized, PDFs (access files) open properly and include OCR (optical character recognition) so that digitized text is searchable, and filenames have correct naming conventions.
The access files are then bulk uploaded to WakeSpace Digital Collections in a temporary collection for another round of quality assurance before they are made available for public view.
Another round of biographical files is on the way. Stay tuned!