Reynolds 400 (current location of Microtext and Government Documents) will become a Scholars Commons. We will create a student study room with flexible study options, plenty of electricity and increased technology choices. The room will be refreshed with new furniture, paint and light fixtures. There will be a major increase in number of available electrical outlets. We will also update, enhance and increase the technology available for student use.
Faculty Collaborative Services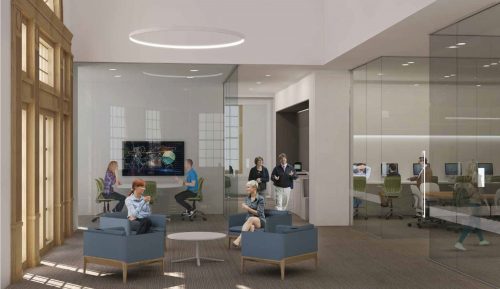 The Faculty Collaborative Services project will create two complementary faculty-focused spaces on the sixth floor of the Wilson Wing. This project will locate the Teaching and Learning Collaborative and the Digital Scholarship Lab adjacent to each other, taking advantage of natural synergies between their missions and affording an efficient sharing of class and conference rooms, a recording studio and a faculty lounge. Space for this project will be created by shifting collections in that area to other locations in the library.