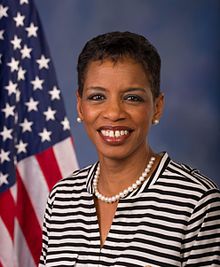 Special Collections & Archives proudly announces the donation of the U.S. Representative Donna Edwards Congressional Papers to the University. A native of Yanceyville, N.C., Edwards ('80) earned her WFU degree in English and Spanish. After working for Lockheed Corporation at the Goddard Flight Center with the Spacelab Program, she earned a law degree from the University of New Hampshire. As a lawyer, Edwards focused on activism, serving as the first executive Director of the National Network to End Domestic Violence. She was elected to Congress as a Democrat for Maryland's 4th Congressional District in 2008, and she served until 2017.
Her collection of congressional papers includes hearing materials, testimony, statements, memoranda, notes, photographs, video footage and memorabilia collected during Rep. Edwards' time in office and official duties. The collection will be processed by archivists and made available to researchers in 2018.
Special Collections & Archives contains manuscripts, rare books, the North Carolina Baptist Historical Collection and the University Archives. For additional information concerning these collections, please contact archives@wfu.edu or the Director, Tanya Zanish-Belcher.