This past Friday, Special Collections & Archives hosted over 30 archivists, curators, and development officers for the symposium "Donor Based Strategies for Conservation Funding." Sponsored by ECS Conservation, Senior Conservator Matt Johnson worked with the SCA Team to develop the schedule and presentations. Attendees included representatives from East Carolina University, Elon University, Fayetteville University, Mint Museum, the Southeastern Baptist Seminary, University of North Carolina-Charlotte, University of North Carolina-Greensboro, University of North Carolina-Wilmington, the Wake Forest Birthplace, and West Virginia University.
After a welcome from Associate Dean Susan Smith, I gave a brief presentation about the development and current status of our own Adopt a Book* program. With our forthcoming web site redesign, Adopt a Book* will be front and center with a button on our front page which will take you to numerous collection options needing conservation work or rehousing. Even if a donor doesn't have the funds for a major conservation project, we will also accept donations for the creation of a special box. Special thanks to Craig, Finley, Megan, Kevin, and Rebecca for helping with the development of this long-term program. More to come!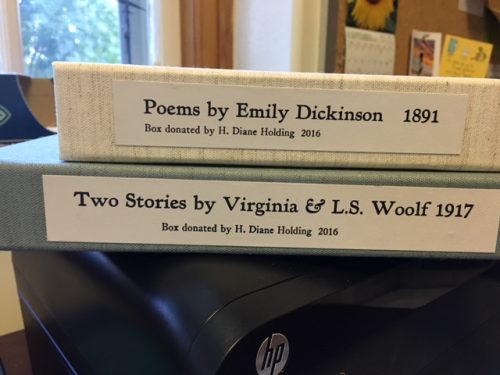 Matt then spoke about his conservation work, and shared specifics about items and the work done on them, including our copy of Livy's History of Rome (funded by the Oscar Smith Endowment). The group then broke up into small groups for discussion, focusing on the barriers we face in locating development funds for conservation work, and how we can best find solutions. After lunch, we heard from Clare Jordan of CapDev, who discussed the differences between fundraising and philanthropy. The one phrase she drilled into our heads to never use with donors? "We need." It's important to focus on what the donor would want and how to provide a way for them to have an impact. We then heard from Karlene Jennings, Executive Director of Development for UNCG Libraries, who discussed the role development staff can play in building partnerships and relationships with donors. The symposium closed with Tom Camden, Director of Special Collections at Washington & Lee University, who described his Department's fully funded conservation program.
After some additional discussion, the symposium finished shortly before 4:00 and the participants expressed thanks for a productive day. I will be sending an evaluation form to capture more of their thoughts as the more we share, the more we learn from each other.
*Artifacts, artwork, books, diaries, documents, letters, maps, manuscripts, posters, and any other item in SCA collections.