The "Black History Month" panel of the exhibit includes history of the month, and photographs of notable African Americans including Dr. Angelou and President Barack Obama. The class description and student listing is included on this panel along with a QR code to the timeline they developed in conjunction with the exhibit.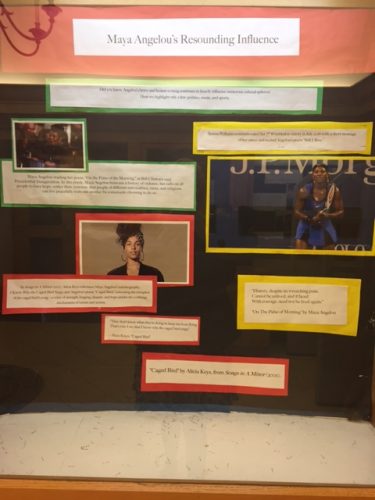 A panel illustrating some of "Maya Angelou's Resounding Influence" includes quotes, pictures, and QR codes to famous readings of Dr. Angelou's work. These include Maya Angelou reading "On the Pulse of the Morning" at President Clinton's inauguration, Maya Angelou reciting "Human Family" over a slideshow of photographs, Alicia Keys singing "Caged Bird" from her album "Songs in A Minor," and Serena Williams reading "And Still I Rise" after her 2016 Wimbeldon championship.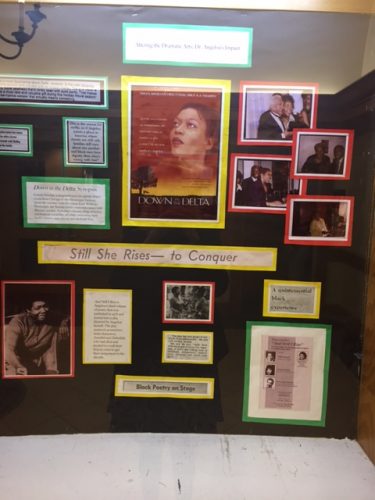 The WRI111 students requested many reproductions from the Maya Angelou Film and Theater Collection for display in the exhibit. Special Collections & Archives' archival collection focuses on her work in film and theater, as opposed to her poetry, writing, and personal manuscript collection (which is housed at NYPL's Schomberg Center for Research in Black Culture). The exhibit includes reproductions of photographs, movie posters, theater programs, and newspaper and magazine clippings.
I recommend taking some time to view the student curated exhibit for yourself when you are coming and going from ZSR. I enjoyed my time with Dr. Leuschen's class and find it especially rewarding when students and faculty access Special Collections & Archives materials for class projects. If you would like to learn more about the Maya Angelou Film and Theater Collection, please email archives@wfu.edu.