ZSR summer renovation projects are moving right along! Here is what is planned for the next few weeks:
Wilson 6
The transformation of Wilson 6 is underway! Once completed, Wilson 6 will be the new home for the Teaching and Learning Collaborative and the Digital Scholarship Lab. Electricians are wrapping up installation of the overhead electrical wiring and wall infrastructure this week.
Drywall will be delivered in the next week, using the same "crane-to-window" delivery method that was used in late June for the delivery of the wall studs.
The dry walling process will begin on July 11. There will be some drilling noise accompanying this work from Tuesday through Friday– keep in mind that the 7th and 8th floors of the Reynolds wing may provide a quieter work space for visitors during this period. Adjustments to our existing sprinkler system will also begin next week (this will not affect running water in other facilities).
Reynolds 4
Space preparation and demolition of existing office areas will commence on July 10. Work will begin on establishing cable & electrical pathways from 1st floor Reynolds-4th floor Reynolds all next week. During July 17-21 work will begin on core drilling and installation of electrical floor boxes (to accommodate additional outlets in our new Scholars Commons!).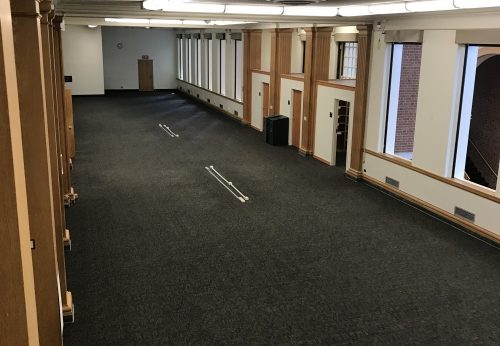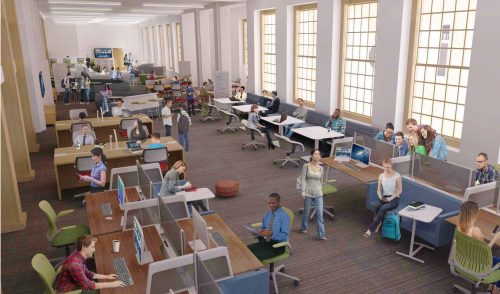 Stay Tuned!
We'll share more updates on our summer renovation projects as they develop. In the meantime, check out our Flickr stream for more pictures of summer renovation projects!