In addition to the student assistants who work in Special Collections & Archives, we are fortunate to have a few Wake alumni who also support the department's work; many are graduate students in library science, so we're able to provide some experience and mentoring in their field. This week we are bidding farewell to Megan Franks, who worked here while earning her undergraduate degree and stayed on while she did coursework for her Master's in Library Science from UNC Greensboro.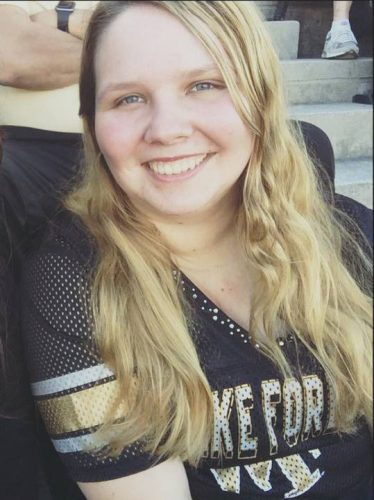 Megan has written a bit about her work here, which has touched innumerable projects and many aspects of special collections and archives work.
Reflecting on all of the projects – big and small – I have completed during my time working in this department really highlights the diversity of skills and experiences when working with special collections and archival materials. I have completed projects ranging from organizing and describing collections of individuals' papers, to searching through entire collections to add to the ever-expanding history of Wake Forest.

My favorite projects have been the ones that touched on this history in some way. Every time I completed one of these projects, I learned something new about the university that gave me a greater understanding and appreciation of the place. One project I particularly enjoyed was compiling newspaper articles from the Old Gold and Black student newspaper, on the rise of the Women's, Gender, and Sexuality Studies department at Wake Forest. To complete this project, I had to search through our digitized copies of the OGB by keyword – using obvious keywords like 'women's studies' and 'WGS', but also having to consider the history of women's studies and issues as a whole and using keywords like 'women's lib' and 'Civil Rights Act'.

Once I compiled around 100 articles that I thought best created a timeline of the history of the department – from the first mention of the study of gender at Wake Forest in the 1960s to the recent hiring of a new director for the department – I had to go back and capture images of each of these articles. I took screenshots of their titles, text, and any pictures, and then I pieced together each article along with an OGB header (with date of article) in Photoshop. We then printed these articles and bound them in a scrapbook, giving one copy to the WGS department and keeping one for ourselves.

I enjoyed this project because it gave me a new angle with which to look at Wake Forest history, from a group that's not always as heavily represented in the history of the university. It helped me better understand the history of the university as a community, and not just an institution.
Megan, thank you for being part of Special Collections & Archives! We know you have an interesting and fun career ahead of you in librarianship.