One of our students is graduating at the end of this semester and we wanted to bring our readers one last post about her work here. Senior Anna Hathcock has been with SCA since the fall of 2016 and has worked in nearly all aspects of SCA: public service at our reference desk, collections processing, and book preservation work. We are so excited that SCA has been a means to helping Anna consider a career path related to archives and libraries, and we will miss her focus, effort, and camaraderie, all of which have meant so much to us here. Here's Anna reflecting on her time working in SCA in her own words:
Reflecting on my past three years of service in Special Collections and Archives, I am filled to the brim with gratitude and joy for the time I have spent on the sixth floor of ZSR.  When I came to Wake Forest as a naive freshman, I was assigned a work study position as a lifeguard for the campus pool in Reynolds Gymnasium. Though my lifeguard certification was still valid from high school, I was not a very strong swimmer but I was bound and determined to succeed in this position with high aspirations of becoming Head Guard before graduating. Well, lo and behold, at the end of my freshman year, the pool closed for a two-year renovation, thus terminating my employment with Campus Recreation and crushing my dreams of obtaining the coveted Head Guard position.
The next year, when it came time to submit my preferences for a work study position, I was torn and slightly apathetic. I figured working at ZSR would be a safe option, as I had seen many friendly student employees at the circulation desk and shelving books during my long evening visits in the Atrium.
Also, I had taken LIB100, an introductory course to academic materials and information, during my freshman year. Part of this course included a tour of the entire library, and an entire class session dedicated to the treasures tucked away in Special Collections. I was immediately enamored with the reading room and the viability of preserved material culture. Flipping through old editions of Howler yearbooks and Student Handbooks spoke volumes to me about the history of Wake Forest as an institution, much more than the glossy, freshly printed Forestry 101 I received as a freshman.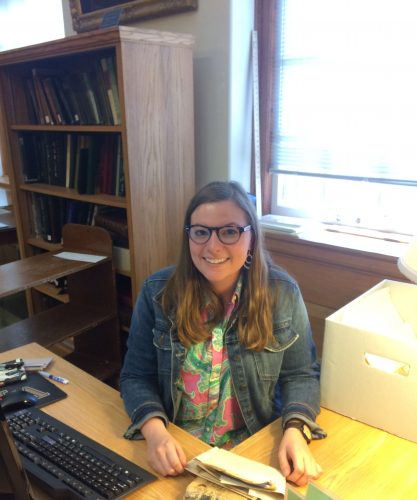 Though I experienced the whimsy and magic of Special Collections that day, I didn't think much of it until I was instructed to go to the job fair for work study students assigned to work in the library on a warm afternoon in early September. With a bit of luck, I was matched to the Special Collections and Archives Department and began my first shift at the welcome desk in the reading room a few weeks later.
Special Collections has truly provided me with a sense of who I am, where I belong, and where I desire to go in this world. As mentioned before, Special Collections has inoculated me with the rich history of this campus and institution, thus enriching my experience as a Wake Forest student through forgotten tales of students and campus policies that came before me.
For any students, faculty, or staff who yearn to immerse themselves in the intricate history of Wake Forest, I urge you to visit the current exhibit on display in the Special Collections Reading Room highlighting Dr. Ed Wilson's tenure at Wake Forest and the monumental changes that he witnessed as an administrator. Each of the documents and panels on display significantly impact our identity as Wake Forest students, whether it be relating to racial integration of the University or the development of study abroad programs; these milestones have had great effects on this campus. They call us to take advantage of our agency as Wake Forest community members to enact positive and sustainable change and fulfill the Pro Humanitate motto beyond the gates of campus and out into the world.
I don't know about you, but when I encounter documents in the University Archives detailing the accomplishments of prior Wake Foresters, I'm overcome with both awe and empowerment. The greatest lesson that I've learned during my time in Special Collections doesn't involve accessioning and processing collections or Google Sheets.
Rather, I've learned that each one of us has the ability to create changes in our community, whether that's on campus or halfway across the world. If you ever need a reminder of this, visit the reading room and call on the achievements and trials of those who have come before you. As I venture out into life after Wake Forest, I imagine that I'll often reflect on my time spent with Special Collections and the contagious encouragement found within University Archives.