Thank you to our latest student assistant blogger, Anna Hathcock, who is here to talk about her time and work in Special Collections & Archives, and how it has illuminated her career path. Take it away, Anna!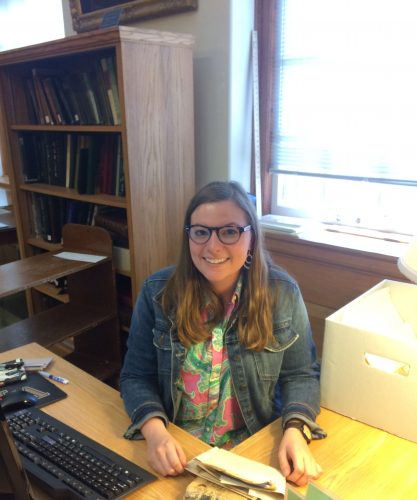 Hello! My name is Anna Hathcock and I am a junior studying religion here at Wake Forest.
I've been working at Special Collections since September 2016: at the public services desk in the Reading Room assisting patrons, as well as in the processing room where I handle collections. This semester, I have spent the last two months cataloging, organizing, and inputting data for 120 church records from the North Carolina Baptist Collection in SCA's collection management system. These records are frequently used by patrons researching ancestry and church histories.
I appreciate the variety of the projects that I have been assigned, but my favorite collection that I have worked on has been the Loven papers, because this manuscript collection includes romantic letters between George Carl Loven and his future wife, Cordie Phillips, during his deployment in World War I. Most of my work in special collections revolves around organizing materials with labels and folders, rehousing items into acid-free containers to prolong preservation, and inputting data about collections into finding aid tools so that the public is able to view information about our collections online. This is extremely satisfying and rewarding to me because the tasks that I am given are very pragmatic but also extremely meaningful because they aid in easing the connection between patrons and the materials they seek.
Working at Special Collections and Archives has truly been a transformative experience for me. Every day, I am able to work in the welcoming and almost regal environment that is the Special Collections Reading Room and have a hands-on involvement in the preservation and organization of history. Through my employment in this department, I was inspired to take a library science class last spring called History of the Book which is co-taught by Special Collections Librarian Megan Mulder and Preservation Librarian Craig Fansler. During this course, we learned about the evolution of bookmaking and its transformative power throughout history. As a student in this course, I participated in several hands-on workshops where we created marble paper, set type and printed it using a traditional letterpress, carved our own wood cuts, and even bound our own books. If I were to have any job of my choosing throughout history, it would easily be medieval bookmaking. Not kidding!
As mentioned earlier, working in archives has been very meaningful and joyful for me and since my first semester as a student assistant here, I have known that I wanted to expand my involvement with archives beyond just my undergraduate work study assignment. I studied abroad last semester in Stockholm, Sweden, and was inspired by my work here to base my travel plans throughout Europe on where the most spectacular libraries are. I think Prague is the winner, hands down. Upon my graduation from Wake Forest in December, I plan to obtain my masters in library science, with a concentration in archives, in Stockholm. I can't speak enough to the impact that my time in Special Collections and Archives has had on my goals, my growth, and my mentality over these past two years. From the librarians who constantly motivate me to take on new tasks and support me in my future plans, to the collections themselves which transform me and provide me solace amidst endless academic deadlines, I am so thankful that Special Collections and Archives has been a part of my Wake Forest journey.
While we certainly know and appreciate that not every student worker will become an archivist, it's always nice to have an opportunity to help support future librarians and archivists as they navigate our field. We are happy to have Anna darken our doorway as long as she is at Wake Forest or in the U.S. Thanks for sharing your experience, Anna!