Agate is a semiprecious stone. Agate varies in color and shape and instead is identified by the Wonka's Gobstopper-like banding on the inside, developed by quick cooling of magma. These rocks can look lackluster at first, but polish smoothly and can expose beautiful multicolored stripes.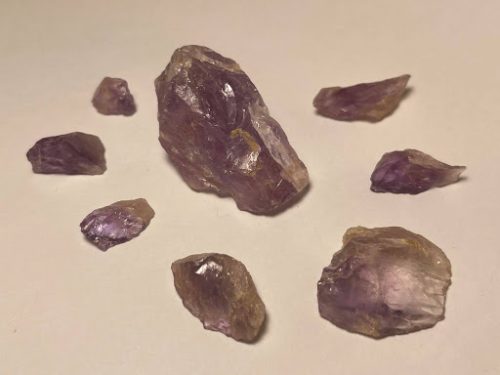 Amethyst is a semiprecious quartz variant with a distinctive purple color. North Carolina is a hotspot for amethyst due to our soil's high content of crystal and iron.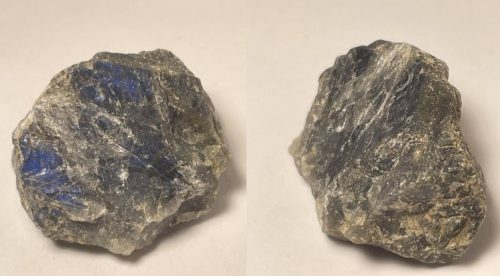 Cordierite is an igneous mineral, typically made as bands deposited onto other igneous rocks, known for its pleochroic, or "color shifting" effect. It's commonly found in clay and can be dark grey to reflective blue. Resistant to high temperatures, it has some commercial uses, but otherwise it's a cool ornamental piece.  The pictures above are the same piece of cordierite.
Jasper has a tight crystalline structure, making it a strong and opaque stone. The workers at Emerald Hollow Mine called it "nature's brick." Depending on which minerals and soil types the jasper forms in, it garners different characteristics. Jasper is prone to banding and "imperfections," which can be exposed with smoothing. The red and green jasper above has some visible spots and banding.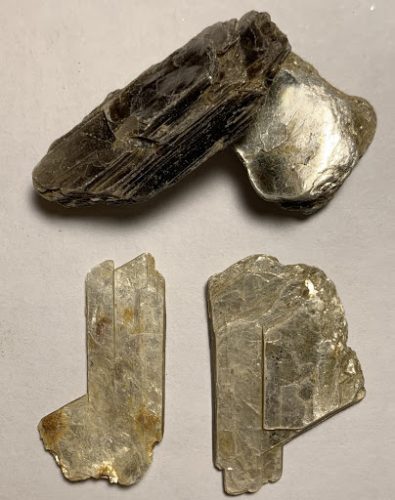 Mica is an aluminum-heavy mineral called a phyllosilicate. It forms in sheets, allowing it to coat or form with any type of rock. It's distinctively reflective and can break apart (in rock lingo: cleaves) in sheets. Mica has industrial uses such as electrical engineering, glass working, and cosmetics like highlighters.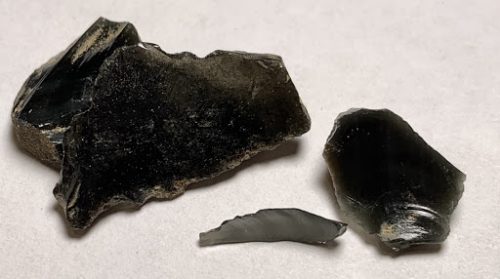 Obsidian is an igneous rock, known as a "natural glass" because of its shine and smooth surface. It is formed from the quick-cooling lava, making it stronger than glass but still fragile (and sharp!) It is black but can be banded with yellows, reds, and greens. It is sometimes used as a semiprecious gemstone.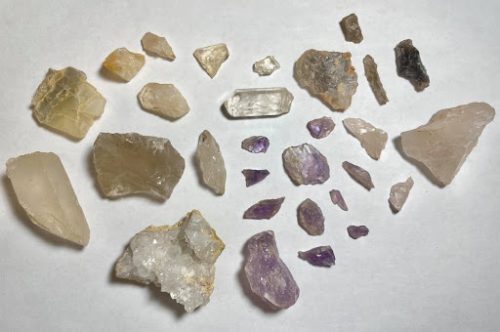 Quartz is a diverse mineral, in its variations and its uses. It is prone to pick up mineral impurities, which can decrease the mineral's shop quality or transform it into another mineral.  The popular clear variant is crystal quartz, but variations include smoky quartz, rose quartz, amethyst, and citrite. Quartz variants can also be found inside of geodes as clusters.
The next time you find yourself walking outside, look out for some of these rocks and minerals. No matter where you find yourself venturing in this state, you can find fascinating minerals and artifacts to take home with you. I have much more to learn about rockhounding, and hope this ignites interest in some of you.
Thank you for the geology history and identification primer, Manny! Looking forward to seeing what I can spot on my next long walk.