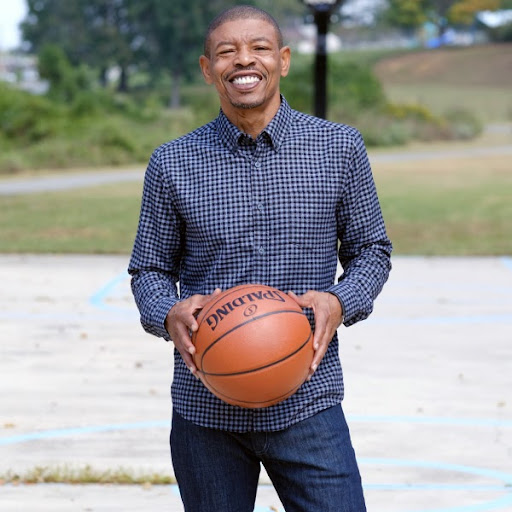 Looking Back: The History of Wake Forest Sports: A Conversation with Muggsy
February 22, 2022, 3:00-4:00 pm.
Online via Zoom
WFU Athletics and WFU Special Collections & Archives (ZSR Library), in partnership with Bogues Group, Bookmarks NC, and Triumph Books, are pleased to host A Conversation with Muggsy. Join Mike Muse, Director of Basketball Operations, as he talks with Muggsy Bogues, Wake Forest legend, who will share about his journey from a kid in the projects to the shortest player in the NBA as part of his upcoming memoir release Muggsy: My Life from a Kid in the Projects to the Godfather of Small Ball. Please register in advance (a Zoom link will be sent to you).
Pre-Order Muggsy's book in advance from Bookmarks (Winston-Salem)
Books will arrive after publication date of 4/12/2022
Bookmarks is a literary arts nonprofit organization and independent bookstore in Winston-Salem (NC) that works to ignite the love of reading
Tyrone Curtis "Muggsy" Bogues is the shortest player ever to play in the National Basketball Association (NBA), the 5'3″ Bogues played point guard for four teams during his 14-season career in the NBA. Although best known for his ten seasons with the Charlotte Hornets, he also played for the Washington Bullets, Golden State Warriors, and Toronto Raptors. A native of Baltimore, Maryland, and a graduate of Wake Forest University, Bogues was inducted into WFU's Sports Hall of Fame in 2001 and remains Wake's all-time leader in both steals and assists. He currently serves as the President of the Muggsy Bogues Family Foundation which helps at-risk youth and families beat the odds stacked against them.
Mike Muse, a former Wake Forest assistant men's basketball coach, returned to Wake Forest in October of 2019 as the Deacon Club's Director of Basketball Development. Muse works under supervision of the Development staff and in close coordination with the Men's and Women's basketball staffs to create an atmosphere of engagement and development among former basketball players. Muse was Wake Forest's Director of Basketball Operations during the 2006-07 season under Skip Prosser and was an assistant coach for two seasons (2007-08, 2008-09) under Dino Gaudio. A native of Winston-Salem, Muse graduated from Appalachian State in 1985 with a degree in Physical Education and Health. He earned his Master's in School Administration from Appalachian State in 1999.
Book Description: In this new autobiography, Bogues delves deep into his life and career, reflecting on legendary battles with Michael Jordan and playing alongside Alonzo Mourning, Larry Johnson, Latrell Sprewell, Tracy McGrady, Vince Carter, and other generational hoops stars of the '80s and '90s. He shares far-ranging anecdotes from his playoff runs in Charlotte; his appearance in several TV shows and movies, including Space Jam; and his stint coaching in the WNBA. Muggsy is a candid and insightful memoir from one the NBA's most unlikely stars.