On Valentine's Day we celebrate our love of books with the campus community through our Blind Date with a Book (BDWAB) program. This year we paired ~350 books with eager students during this much beloved, pop-up library event. BDWAB aims to promote leisure reading and cultivate a community of readers on campus.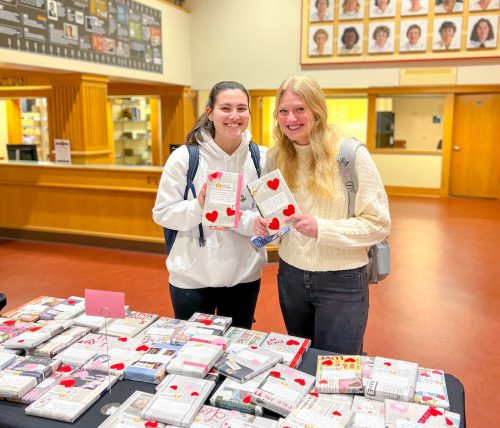 To plan for the event we collect popular fiction and non-fiction titles throughout the year, receiving book donations from ZSR faculty and staff and Bookmarks, a local independent bookstore and literary arts nonprofit organization. We also supplement our blind date selections with books that we purchase from McKay's. We make an effort to provide a diversity of authors and a wide variety of texts– everything from literary fiction to genre fiction, works in translation, graphic novels, collections of essays, poetry, and more.
This event is truly a labor of love, as each book is hand wrapped to conceal the title & author and tagged with clues about the book, such as genre and literary appeals. It is especially gratifying to hear students share their blind date selections from years past, and remark on how much they enjoyed reading their books. If you'd like to learn more about our process for making this event happen, check out our blog post "Behind the Scenes: Blind-Date-with-a-Book".
A great deal of gratitude and appreciation needs to be extended to ZSR Library Ambassadors Amanda Jones, Parker Beverly, Madi Shaver, Cat D'Arcangelis, Aidan Smith, Collin Sharp, Sarah Haugh, Sophie Lee, and Jacquelinne Marroquin, as this program could not happen without their tireless efforts!
Special thanks and appreciation as well to Hu Womack and Daisha Bunn, who helped with the preparation and promotion of this event, and to all ZSR librarians and staff members who donate books to support this program❤️
More photos from the event can be found on the ZSR Library's Flickr site. We are looking forward to next year's matchmaking event!