Occasionally we receive questions and interest from other librarians regarding our Blind-Date-with-a-Book (BDWAB) program, so I wanted to take an opportunity to share our program model and bring attention to all of the work that happens behind the scenes for this fun event.
Collecting the Books
Typically, we offer two BDWAB programs during the academic year– one in the fall to coincide with a Arrive & Thrive (a campus-wide event to promote our wellbeing initiatives from the Office of Wellbeing) and one in the spring to coincide with Valentine's Day, February 14th. We try to collect as many books as we can to give-away at these events, so we collect materials throughout the year to support these programs. We collect books through:
donations from community members and ZSR staff and librarians
purchasing gently used books from local thrift stores, used book stores, and local public library book sales
donated ARCs (advance readers' copies) from local book vendors and publishing reps at conferences.
We strive to offer a diverse collection of stories, genres, and voices in our BDWAB program. To that end, we use an #OwnVoices label to identify titles that feature protagonists and experiences of underrepresented ethnicities, disabilities, cultural or religious backgrounds, gender nonconformity, or LGBTQIA+ orientations, written by authors that share that identity. We also keep a record of titles that are distributed at our BDWAB events, using Worldcat lists. At our last BDWAB event on Feb. 14, 2020, we gave away over 300 books!
Turning Books into Blind Dates
A lot of effort goes into prepping the books for the event. First, we write a brief summary for each book that informs someone about the story and the literary appeals (without identifying it). For titles that we are less familiar with, we make good use of the summary content, Goodreads, and Novelist to develop accurate descriptions. Tone, genre, and other appeal factors may be included in the description.
Then, each book is wrapped to conceal the cover, and the brief summary is attached to the wrapped book. Luckily, we have plenty of volunteers who are willing to help us wrap books. We rely on the ZSR Ambassadors, our student advocacy group, and ZSR volunteers to assist with prepping books for our events.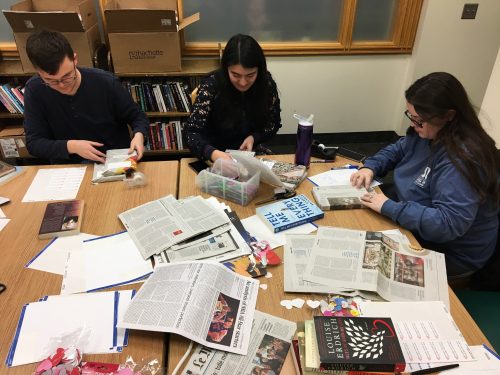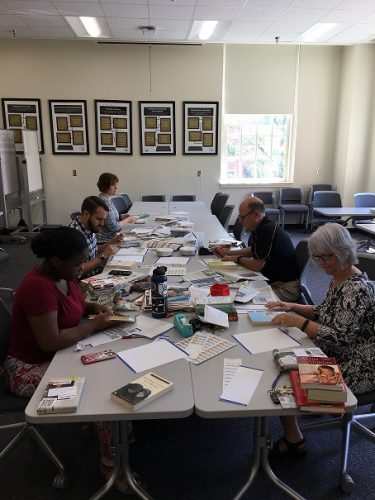 Connecting Books with Readers
All of the preparation and hard work pays off during the event when you are able to connect readers with titles that interest them. BDWAB is one of my favorite campus events because it showcases our campus reading community and students are thrilled to find a book that they are excited to read. Many students spend several minutes at the table deciding on their "blind date" choice. At the end of the day, all of the books are paired and students are appreciative of this opportunity to expand their reading interests.