This article is more than 5 years old.
LITA has been very good this year. After an interesting keynote session on Friday I went to a presentation on click analytics by Tabatha Farney at U of Colorado, Colorado Springs. She discussed a few tools including Crazy Egg and some open source tools that allow you to gather heat map and other types of use data on your site.
She talked about the relationship between this type of use statistic and other forms of user research and suggested that combining the two approaches helped them get a better understanding of how they should design their site.
On Saturday Susan, Kevin and I attended a session on using Scrum in libraries to develop software by Michelle Frisque. Scrum is a technique that focuses on selecting features or bug fixes to fit into a development window (called a sprint). A few of the neat features of Scrum is that it uses an interdisciplinary team approach to make sure that a group of developers and stakeholders are responsible for development and testing.
I also attended an interesting session on the data for research toolkit in JSTOR. I had never heard of DFR before but it is a site focused on providing researchers text, subject, and bibilometric data from the JSTOR repository. One amazing stat from the session was the number 80 million – the number of parsed citations in their database. There are some really interesting opportunities in the database for digital humanities work and it can also simply be used as a faceted search interface.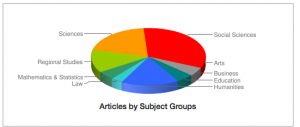 Susan did a good job hosting a networking dinner Saturday night and we had the opportunity to catch up with Andy Morton.