This article is more than 5 years old.
The ZSR Library has joined the ever growing E-book craze by creating its very first (to my knowledge) E-book! Please stop by Wakespace — link removed — and give it a download to your favorite .epub reading device and check out a wonderful piece from our Rare Books Collection, A historic catalog of Irish pressed greeting cards published by Cuala.
This E-book is just the first step in a combined preservation/digitization project now underway in ZSR. Each card you see in our E-book will be removed from its current, worn out book, described, digitized, and remounted in a pristine and preservation-friendly new binding. We hope to produce digital copies of each individual card as well as the full final product, which will be made available as an E-book as well providing an interesting comparison between the original and the new, a before and after in the most literal sense.
Producing the E-book itself was remarkably easy in the often complex and frustrating world of digital formats. Our digitization students took overhead shots of each page of the original catalog, for use by the preservation team in metadata collection and as a base to begin restoration. We then (after a quick crop and some basic straightening) converted all of these photos into one PDF book.
Now comes the easy part, for once. Using a free software found online, Calibre E-book Management, we were able to convert this PDF file into a standard E-book format, .epub for use on any E-book reader that supports that format. ZSR's own Giz Womack graciously tested this out on his new iPad, creating the following screenshots: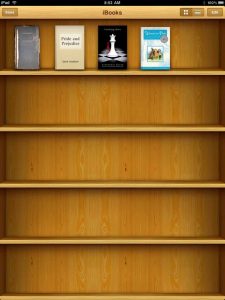 This is how the book looks in Giz's library. As you probably guess, the worn blue cover is our book.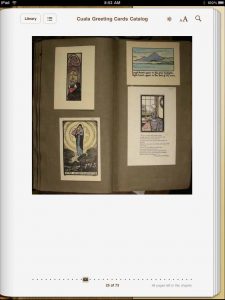 And this is an example of how one of the pages appears, almost like holding the original, just without the dust!
The conversion itself was rendered remarkably easy by the Calibre software. I simply imported the PDF file into my E-book library, clicked a dropdown menu, and started the conversion program. A few minutes of CPU grind later, and it spat out our E-book. I was then able to edit in any metadata I wished, including title, author, and the other necessities. For this test case, a title was sufficient, but we should be able to characterize our future projects very well, and have this information presented to everyone who reads our E-books upfront. All of this could have been done manually, since the .epub format is actually just a .zip file with a very specific file structure, and can be "built from scratch." However, a simple to use and free software that does this work for you, and does it better and much faster is definitely the way to go, in my humble opinion.
Please take a moment to download our E-book to a device of your choice, or if you are interested in just looking at the greeting cards, the original PDF is also available online at –link removed.