This article has been reproduced in a new format and may be missing content or contain faulty links. Contact zsrweb@wfu.edu to report an issue.
I recently volunteered to help teach a workshop entitled "Preparing for a Digitization Project" through NC Connecting to Collections (C2C), an LSTA-funded grant project administered by the North Carolina Department of Cultural Resources. This came about as part of an informal group of archivists, special collections librarians, and digital projects librarians interested in the future of NC ECHO and its efforts to educate staff and volunteers in the cultural heritage institutions across the state about digitization. The group is loosely connected through the now-defunct North Carolina Digital Collections Collaboratory.
Late last year, Nick Graham of the North Carolina Digital Heritage Center was contacted by LeRae Umfleet of NC C2C about teaching a few regional workshops about planning digitization projects. The workshops were created as a way to teach smaller archives, libraries, and museums about planning, implementing, and sustaining digitization efforts. I volunteered to help with the workshops, which were held in January 2011 in Hickory as well as this past Monday in Wilson.
The workshops were promoted through multiple listservs and were open to staff, board members, and volunteers across the state. Each workshop cost $10 and included lunch for participants. Many of the participants reminded me of the folks at our workshops for Preserving Forsyth's Past! The crowd was enthusiastic and curious, asking lots of questions and taking notes. Nick Graham and Maggie Dickson covered project preparation, metadata, and the NC Digital Heritage Center (and how to get involved); I discussed the project process and digital production as well as free resources for digital publishing; and Lisa Gregory from the State Archives discussed metadata and digital preservation.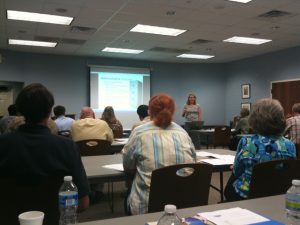 I must confess that the information was so helpful, I found myself taking notes! When Nick stepped up to describe the efforts of the Digital Heritage Center, which at this time is digitizing and hosting materials from across the state at no cost, I learned that they will be seeking nominations for North Carolina historical newspapers to digitize in the near future, and that they are also interested in accepting digitized video formats. Lisa also introduced the group to NC PMDO, Preservation Metadata for Digital Objects, which includes a free preservation metadata tool.It is always a joy to help educate repositories across the state in digitization standards and processes!