This article has been reproduced in a new format and may be missing content or contain faulty links. Contact zsrweb@wfu.edu to report an issue.
While many of our colleagues were in Philadelphia for ACRL, I traveled east to the coast of North Carolina for the joint conference of the Society of North Carolina Archivists and the South Carolina Archival Association in Morehead City.
After arriving on Wednesday around dinnertime with my carpooling partner Katie Nash (Archivist and Special Collections Librarian at Elon), we met up with Gretchen Gueguen (Digital Initiatives Librarian at ECU) for dinner at a seaside restaurant and discussion about digital projects and, of course, seafood.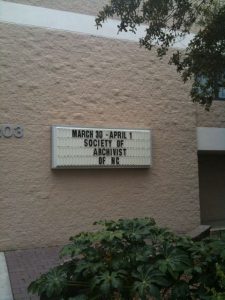 On Thursday, the conference kicked off with an opening plenary from two unique scholars: David Moore of the NC Maritime Museum talked about artist renditions of Blackbeard, Stede Bonnet, and other pirates, as well as archival research that helped contextualize these works; Ralph Wilbanks of the National Underwater and Marine Agency detailed his team's discovery of the H.L. Hunley submarine, including the Civil War-era men trapped inside.
Session 1 on Thursday, succinctly titled "Digital Initiatives," highlighted important work being done at the Avery Center for African American Research at the College of Charleston, UNC Charlotte, and ECU. Amanda Ross and Jessica Farrell from the College of Charleston described the challenges and successes of digitization of material culture, namely slave artifacts and African artwork in their collections. Of primary importance was the maintenance of color and shape fidelity of 3-D objects, which they dealt with economically with 2 flourescent lights with clamps, a Nikon D80 with a 18-200 mm lens by Quantaray (although they recommend a macro lens), a tripod, and a $50 roll of heavy white paper. Their makeshift lab and Dublin Core metadata project resulted in the Avery Artifact Collection within the Lowcountry Digital Library. Kristy Dixon and Katie McCormick from UNC Charlotte spoke carefully about the need for strategic thinking and collaboration at a broad level for special collections and archives today, in particular creating partnerships with systems staff and technical services staff. They noted that with the reorganization of their library, 6 technical services librarians/staff were added to their department of special collections!
Finally, Mark Custer and Jennifer Joyner from ECU explored the future of archival description with a discussion about ECU's implementation of EAC-CFP, essentially authority records for creators of archival materials. Mark found inspiration from SNAC, the Social Networks and Archival Context Project (a project of UVa and the California Digital Library) to incorporate and create names for their archival collections. Mark used Google Refine's cluster and edit feature to pull all their EAD files into one file, grabbed URLs through VIAF and WorldCat identities, and hope to share their authority records with SNAC. Mark clarified the project, saying:
Firstly, we are not partnered with anyone involved in the excellent SNAC project. Instead, we decided to undertake a smaller, SNAC-like project here at ECU (i.e., we mined our EAD data in order to create EAC records). To accomplish this, I wrote an XSLT stylesheet to extract and clean up our local data. Only after working through that step did we then import this data into Google Refine. With Refine, we did a number of things, but the two things discussed in our presentation were: 1) cluster and edit our names with the well-established, advanced algorithms provided in that product 2) grab more data from databases like WorldCat Identities and VIAF without doing any extra scripting work outside of Google Refine.

Secondly, we haven't enhanced our finding aid interface at all at this point. In fact, we've only put in a few weeks' worth of work into the project so far, so none of our work is represented online yet. The HTML views of the Frances Renfrow Doak EAC record that we demonstrated were created by an XSLT stylesheet authored by Brian Tingle at the California Digital Library. He has graciously provided some of the tools that the SNAC project is using online at: https://bitbucket.org/btingle/cpf2html/.

Lastly, these authority records have stayed with us; mostly because, at this point, they're unfinished (e.g., we still need to finish that clustering step within Refine, which requires a bit of extra work). But the ultimate goal, of course, is to share this data as widely as possible. Toward that end, I tend to think that we also need to be curating this data as collaboratively as possible.
The final session of the day was the SNCA Business Meeting, where I gave my report as the Archives Week Chair. That evening, a reception was held to celebrate the award winners for SNCA and give conference attendees the opportunity to participate in a behind-the-scenes tour of the NC Maritime Museum.
On Friday, I moderated the session entitled "Statewide Digital Library Projects," with speakers Nick Graham from the NC Digital Heritage Center and Kate Boyd from the SC Digital Library. The session highlighted interesting parallels and differences between the two statewide initiatives. Kate Boyd explained that the SCDL is a multisite project nested in multiple universities with distributed "buckets" for description and digitization. Their project uses a multi-host version of CONTENTdm, with some projects hosted and branded specifically to certain regions and institutions. Users can browse by county, institution, and date, and the site includes teacher-created lesson plans. The "About" section includes scanning and metadata guidelines; Kate mentioned that the update to CONTENTdm 6 would help with zoom and expand/reduce views of their digital objects. Nick Graham gave a brief background on the formation of the NCDHC, including NC ECHO and its survey and digitization guidelines. He explained that the NCDHC has minimal selection criteria: simply have no copyright/privacy concerns and a title. The NCDHC displays its digital objects through one instance of CONTENTdm. Both programs are supported by a mix of institutional and government funding/support, and both speakers emphasized the value of word of mouth marketing and shared branding for better collaborative efforts.
Later that morning, I attended a session regarding "Collaboration in Records Management." Jennifer Neal of the Catholic Diocese of Charleston Archives gave an interesting presentation about the creation of a records management policy for her institution. Among the many reasons to begin an RM program, Jennifer noted that it was likely the legal reasons that were most important, both federal and state (and in her case, organizational rules). She recommended a pilot RM program with an enthusiastic department, as well as a friendly department liaison with organizational tendencies. Jennifer came up with "RM Fridays" as a pre-determined method for making time to sort, shred, organize, and inventory the materials for her pilot department. Her metrics were stunning: 135 record cartons were destroyed and 245 were organized and sent off site. Kelly Eubank from the NC State Archives explained how the state archives uses ArchiveIt to harvest social media sites and websites of government agencies and officials. She then explored, briefly, their use of BagIt to validate GIS geospatial files as part of their GeoMAPP project.
It was wonderful to meet and network with archival professionals from both Carolinas and learn about some of the innovative and creative projects happening in their institutions. Right now I am thinking about EAC, collaboration with tech services, CONTENTdm, and records management. I was glad to participate in this great local conference!