This article has been reproduced in a new format and may be missing content or contain faulty links. Contact zsrweb@wfu.edu to report an issue.
Yesterday Craig, Rebecca, and I visited the Aycock Visual Resources Library in the Scales Fine Arts Center. Librarian and Print Curator Martine Sherrill as well as Technician Kendra Battle showed us around their small but well-organized space, including their slide, video, and print collections.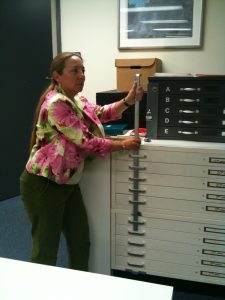 Martine shared with us their excellent collection of prints, including a complete set by Picasso that she may be hand-delivering to Spain for an exhibit there. Their print collection is indexed and browse-able online. We also learned about MDID, their art and architecture image database shared with other repositories on campus including the Reynolda House. The database requires a WFU login and password but it has some interesting features for saving and organizing images for classroom use, including adding personal images, creating slide shows, and adding notes to images (with an approved faculty account).
One of the most interesting things discussed during our visit was their established workflow for requesting and completing digitization requests from faculty as well as students. They were very organized, tracking timelines and requests in a database as well as with paper forms that were left in specific student inboxes for scanning.
Currently, they are storing master TIFF images on their in-house server, on external hard drives, and on DVDs. It was an inspiring visit to another "special collections" space on campus!