This article has been reproduced in a new format and may be missing content or contain faulty links. Contact zsrweb@wfu.edu to report an issue.
The Joint Conference of Librarians of Color was held in Kansas City September 19 -23. This conference brings together Native American, Hispanic, African American, Chinese American and Asia Pacific Librarians. This is the second such gathering for the group. The first one was held in Dallas back in 2006. I didn't hear any official numbers, but I'd guess around 600 or so librarians were there. I am sure our friends over at UNC-G won the prize for most in attendance, with twenty-two students and six librarians on the roster. We had a splendid welcoming at the Kansas City Public Library which featured cultural cuisine and entertainment representative of each of the ethnic groups celebrated at the conference. The library was very attractive and most welcoming with lots of really cool stuff. This vault turned into a film viewing studio and an outdoor chess set available for patron use were just a few of the more noteworthy happenings.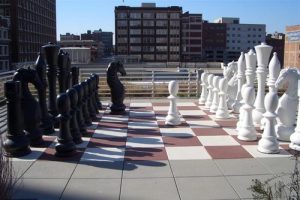 The opening speaker was Sonia Manzano of Sesame Street, where she continues to portray Maria since the 1970's. She spoke of family and community and how it has influenced every book as well as many of the Sesame Street episodes she wrote. And yes she still has such great looks. I was really disappointed when my pre-conference on writing diversity action plans turned out to be nothing more than a review of the leadership principles found in appreciative inquiry and organizational development. Not to worry though, diversity in some form was the primary topic of the conference. By then end of the week, I felt like I had heard the same message over and over again. I also believed that most of the recommendations given to those in attendance, were the same ones to benefit the most from others hearing and applying the message. However, one of my strongest beliefs is that each time you hear a varying form of the somewhat similar message, the more it reinforces the underlying principle of the message. Here's a summary of the sessions I attended or shall I say a few takeaways.
Diversity is a commitment to recognizing and appreciating the variety of characteristics that make individuals unique in an atmosphere that promotes and celebrates individual and collective achievement. All are empowered when we have an inclusive organization that recognizes, yet values those differences. If libraries are to continue being indispensable organizations on their campuses and within their communities, their staff must reflect the communities they serve. Libraries must provide quality services and collections to their increasingly diverse constituencies.
Deep diversity is not all about the numbers. It's all about value and respect. Diversity thinking has gone from tolerating to celebrating. Traditional recruitment efforts alone are not enough. Librarian residency programs can aid, but also can do much to damage if everyone on board has not fully brought in to the value of why this is a necessary tool. Setting and communicating clear expectations for all parties is essential to a successful program. It's about retaining. How well has your new hire adjusted to the community? Is the library the only place in your community that is welcoming? How honest and upfront were you concerning the organization you recruited for?
Who we are, how we think, interact and learn is shaped by our own experiences. What our lives have held inform how we react to any given situation. The more we, as a person or as a collective organization, know about each others experiences, the more we can relate to and understand each other. The more effective our communication with each other becomes and the more our sensitivity is enhanced within any situation or conversation.
An emotionally healthy workplace is positive, nurturing, caring and respectful. A healthy workplace has vitality, integrity, tolerance, appreciation, latitude and empowerment. Over one million absences within the workplace each year are stress related. Other signs of workplace stress are poor concentration, repeated respiratory infections, fatigue and the general I just don't feel well.
Jamaal Joseph the closing speaker, author of Panther Baby, was most inspiring. His story of how a Black Panthers organizational leader armed him with his first set of books, with lessons he learned in prison, to his triumph ascension to the faculty at Columbia University, left the audience in tears. He charged us as Librarians to arm our communities with the knowledge and support our youth need to be successful at life. He asked that we make a personal commitment to ending institutional slavery (prisons) to our nations "black and hispanic boys." This was the best conference closing message Librarians of color could have ever hoped for. JCLC was a wonderful celebration of cultures, a celebration of librarians of color, a sharing of our stories and yes a gathering at the waters. I sincerely welcome the opportunity for further discussion on any of my conference takeaways.- Wanda