This article has been reproduced in a new format and may be missing content or contain faulty links. Contact zsrweb@wfu.edu to report an issue.
On August 22nd, a week before classes began, I had the enjoyable experience of conducting two mini-courses at Wake Forest Pre-School. Most of you who read this are thinking "I had no idea that WFU had a preschool! I thought we couldn't even get a day care facility on campus!". Well, the Pre-School of which I speak is a week-long camp sponsored by the WFU Chaplain's office for incoming freshmen. It is held the week before classes start and this year was at Camp Cheerio, about an hour northwest of Winston-Salem.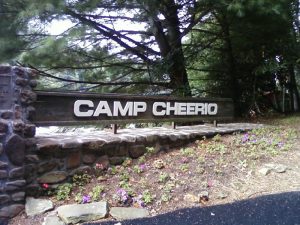 This is an event that has been going on or 57 years, and is an informal way for new students to transition into college life. Older students attend as mentors for the freshmen, answering questions and giving helpful advice on how to survive and succeed at Wake. All students take part in discussion groups, hear panel presentations about what campus life is really like, have a talent show, and attend mini-courses which are presented by WFU faculty and staff members. These courses are designed to help the freshmen get to know some of the faculty and staff at WFU, without the pressure of being in class yet. Topics can be on just about any subject that the presenter chooses, and is usually on something that he or she enjoys and is interested in. Sessions over the past few years have included:
Top 10 Ethical Questions for Incoming Students
White Collar Crime and Prison Ministry
WFU Points of Pride
Body Talk: Understanding Body Image Pressures in the College Environment
Awake to the Arts at WFU
The Power of Thank You
Evolution and the Bible: Is there a Problem?
Sherlock Holmes
Hand massage and relaxation
Sex, Drugs, and Rock and Roll
When I was asked to be a presenter, I immediately thought of something that never ceases to surprize me and spur my curiosity: The History of Wake Forest. No shock there, right? I decided to approach the topic in a more detailed way, though, and share some lesser-known information with these students; things that the average WFU student doesn't know and that give a richness to the story of the school. They all know the basics of the Founded- in- 1834- by- Samuel- Wait- in- Wake Forest, NC story, but there's more to it than that. For example: What was the school mascot in the early days, before the Demon Deacon? Answer: Tigers. (There is even a spirit pin that was found on the grounds of the Old Campus that depicts a tiger. It is on display at the Wake Forest Historical Museum now)! Or: Who came up with the idea for the Demon Deacon and when? Answer: Jack Baldwin ('43) in the 1940's. I wanted them to learn more about the story of their school, as well as how their own personal stories will now be part of WFU's, and WFU's story will be part of theirs.
My mini-course was titled "My Story/Your Story, His Story/Her Story". After a few logistical difficulties (we had to run an extension cord from inside the meeting hall through a window to the porch where my group was and then find space for the screen),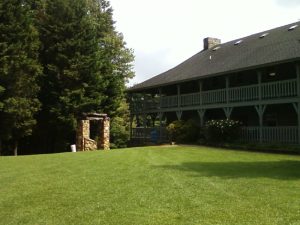 I started off with a little quiz to see what they knew about WFU and the more obscure details, and they were very engaged in the questions. They were all very interested in the facts and stories I shared with them and seemed genuinely glad to hear the information. (One of the benefits of being in the mountains was the spotty cell phone reception. Everyone was so attentive and undistracted)! Of course, I also told them about ZSR and the great people who work here, and encouraged them to all come by and get familiar with the library. I gave them an overview of the services that ZSR offers, and invited them to come by Special Collections to use primary sources or to just visit. One of the mentor students (a sophomore) gave a glowing (unsolicited) review of the library, and said she always found our staff to be very helpful and easy to work with. Nothing better than a student-to-student recommendation! After telling some of my story and Wake's story, I asked them to tell me their stories. We found out where they came from, how they heard about Wake, their hopes and fears as freshmen, and what they were feeling at that point. They are fascinating young people, and it was a treat to get to know them.
So, if you are ever asked to be part of Pre-School, I would encourage you to accept the offer and enjoy the chance to make freshmen feel a little more comfortable as they begin their time at WFU. You can gain as much from them as they can from you!