This article is more than 5 years old.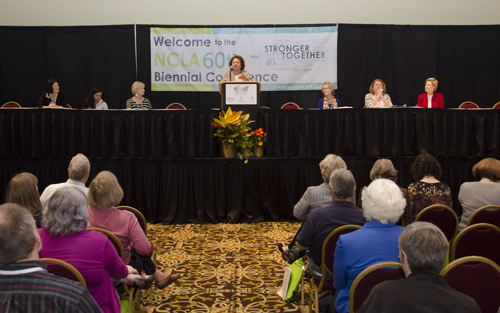 The return of the NCLA Biennial Conference to Winston-Salem provided the perfect chance to become reacquainted with the organization and all the dedicated library professionals from across the state that work hard to plan and put on the conference. As we are all aware, Associate Dean Wanda Brown has been the NCLA President for the past two years. Working in the ZSR Administrative offices some 20 feet from Wanda guaranteed that I would be encouraged to participate in some fashion! I was delighted when Wanda asked me serve as the conference photographer. Armed with a photo schedule covering Tuesday's pre-conferences through the closing session on Friday, I was off and running. Between the photo assignment, the two concurrent session presentations I gave and a stint on the local information booth, by Friday afternoon, I had a full immersion conference experience.
Networking is always a highlight of conferences and I enjoyed reconnecting with many colleagues from around the state (and many locals who I don't get to catch up with as often as I would like). It was gratifying to see the large number of young librarians who attended and overall the quantity of people who came (over 900).
Here is the slideshow of my photos that played during the first part of the closing session on Friday: